---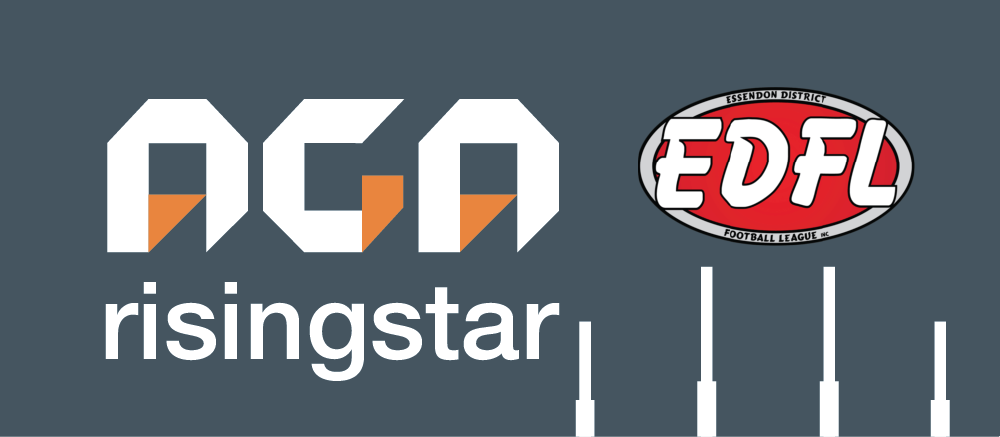 In 2022, the EDFL, thanks to AGA Apprenticeships Plus, will be announcing a Rising Star award for both men's and women's competitions at the end of year awards night.
Eligible players will be aged 21 years or younger at the beginning of 2022, will be playing regular senior football and having a significant impact for their teams.
In the lead up to awards night, the EDFL will release an EDFL Young Guns Report every month as we keep track of our rising superstars this year.
---
Strathmore is back with a vengeance in Strathmore Community Bank Premier Division having won five of its last six games to sit juts outside the top four.
While the Mores were slow to start the season, Will Jury (21) has been one of Matt Horne's most consistent performers thus far.
The tenacious in-and-under midfielder never seems to take a step back at the coalface of the contest no matter the result on the scoreboard.
With the ruck influence from Andrew Vavra and the experienced heads of Nick O'Brien and Adam Iacobucci around the contest, Jury has provided a point of difference in the Strathmore midfield and is enjoying his strongest season to date.
In Airport Toyota Women's Premier Division, the season is in the balance for Maribyrnong Park but that hasn't stopped Lily Bateman (17) from flourishing down back for the Lions.
After making her senior debut in season 2021, Bateman has featured in nine of the 10 games played this year having been named amongst the best on seven occasions.
The Calder Cannons product has been reliable down back for Phil Poursanidis' team and will be one of many key cogs if Marby are to bounce back and make finals come August.
Despite only one win on the board thus far in Rookie Me Division One, there has been plenty of positives to take out of Moonee Valley's inaugural season back in the EDFL's second tier.
A number of close results and a surging win against the Sunbury Kangaroos have been on the back of the growth and development seen in the Fog's next generation of players coming through.
Will Agius (22) has been one of the standouts since returning to the Fog over the off-season after the Moonee Valley junior had a stint in the VAFA with Old Brighton Grammarians.
The versatile product has been described by coach Ian Denny as the 'Mr Fix-It' for the Valley due to his ability to play a role through midfield, down back or occasionally in attack. 
A pair of young guns currently lead the race for the title of lead goal kicker in Airport Toyota Women's Division One.
Greenvale's Alisa Magri (20) currently leads proceedings with 31 goals for the year but with Gisborne's Charlotte Noonan (20) hot on her tail with 27 majors the title is barely fait accompli.
The Jets have been ruthless in attack on a number of occasions this year signified by three-figure margin wins over Moonee Valley and the Sunbury Lions throughout the season.
On those occasions Magri has helped herself to bags of nine and seven, and is forming a deadly partnership up forward with Haylea Cooke (20) who has kicked 18 goals of her own this season.
For Noonan, she has been a much more single focal point when Gisborne go forward.
Seven majors against Moonee Valley was the jewel in her crown so far this year, in a season where she has been kept goalless only once.
Taylors Lakes are still in the hunt for finals action in Strathmore Community Bank Division Two and the return of Luke Nappi (21) could prove pivotal to new coach Steve Burns and the Lions' hope for success in the back-half of the season. 
Despite missing the last two rounds of football, Nappi still remains fourth on the Strathmore Community Bank Division Two goal kicking table.
Having played all his junior football at Keilor, Nappi has entered the fold of senior football to great effect for the Lions after making his senior debut in Round 1.
A bag of seven against Jacana was his greatest haul towards his season total of 27 goals with a number of three and four goal efforts to go alongside it.
And for ladder leaders Tullamarine, Jade Reaburn (17) is currently doing big things in Airport Toyota Women's Division Two.
The Demons' young gun entered the season in Round 5 and hasn't looked back as Peter Labbad's team continue their undefeated run in season 2022.
Raeburn has played five games thus far and has been named in the best on four of those occasions. 
With Tulla streaming towards finals, the lightning quick midfielder is sure to have an impact come August.