---
THE EDFL and Airport Toyota are proud to formally announce their partnership for 2021.
Pasquale and the team at Airport Toyota will assume the naming rights of the Airport Toyota Women's competitions, the weekly EDFL Teams article and the EDFL Match of the Day Halftime Show, as well as being the official Car Partner of the EDFL.
This partnership is a real shot in the arm for women's sport in the north west of Melbourne.
EDFL Operations Manager Pauline Leslie is ecstatic with the new partnership.
"We have worked very hard to build the status of our Airport Toyota Women's competition and this partnership demonstrates and validates the value of female football to the community," Leslie told essendondfl.com.au.
"We are very grateful to Airport Toyota and are looking forward to the Airport Toyota's Women's season kicking off this Saturday."
In Season 2021 the EDFL will have three Airport Toyota Women's divisions with 22 teams participating.
See Tara Murray's full Airport Toyota Women's Season Preview below.
---
THE Airport Toyota Women's competitions present plenty of unknowns after 18 months of no football.
Since forming a standalone competition in 2018, fans, the media and the clubs themselves were starting to get an idea of what to expect and who was who.
But with last season cancelled due to the COVID-19 pandemic, 2021 will be a reset for many teams and players and the competition as a whole.
There's new teams and new players. Some teams have gone up divisions, while others have dropped down.
The change to the VFLW schedule could have an impact, too.
So let's start with what we do know.
There will be 22 teams playing across three divisions.
Oak Park will field a women's side for the first time, with Airport West finally getting to make its debut 12 months later than expected.
Gisborne, which has played in the AFL Goldfields Women's competition, joins the EDFL as it expands into the Macedon Ranges for the first time.
Keilor Park, Roxburgh Park (who both made the Division 1 finals in 2019) and Avondale Heights aren't fielding sides, while VU Western Spurs and Diggers Rest, which were set to join the competition in 2020, haven't entered teams in the EDFL for this year.
Maribyrnong Park, Moonee Valley, Westmeadows and Burnside Heights will all field two senior teams.
---


ABERFELDIE was undoubtedly the standout team of the 2019 season, but it could be a different looking side this year for Abers.
Former AFL player Trent Cummings will coach the side after Claire Heffernan decided to take her coaching skills to a higher level.
From the premiership team, there is expected to be a few outs.
Amy Smith signed with North Melbourne under the father-daughter rule, while Amy Starzer, Ellie Huggard and Amber Wescombe have VFLW contracts.
Jacara Thomas and Sophie Cachia are another two premiership players who are playing elsewhere.
Abers still has its main core, so expect them to be in the mix again.
The club will only have one women's side in 2019, after withdrawing their second team due to a lack of numbers just weeks out from the upcoming season.
2021 FIXTURE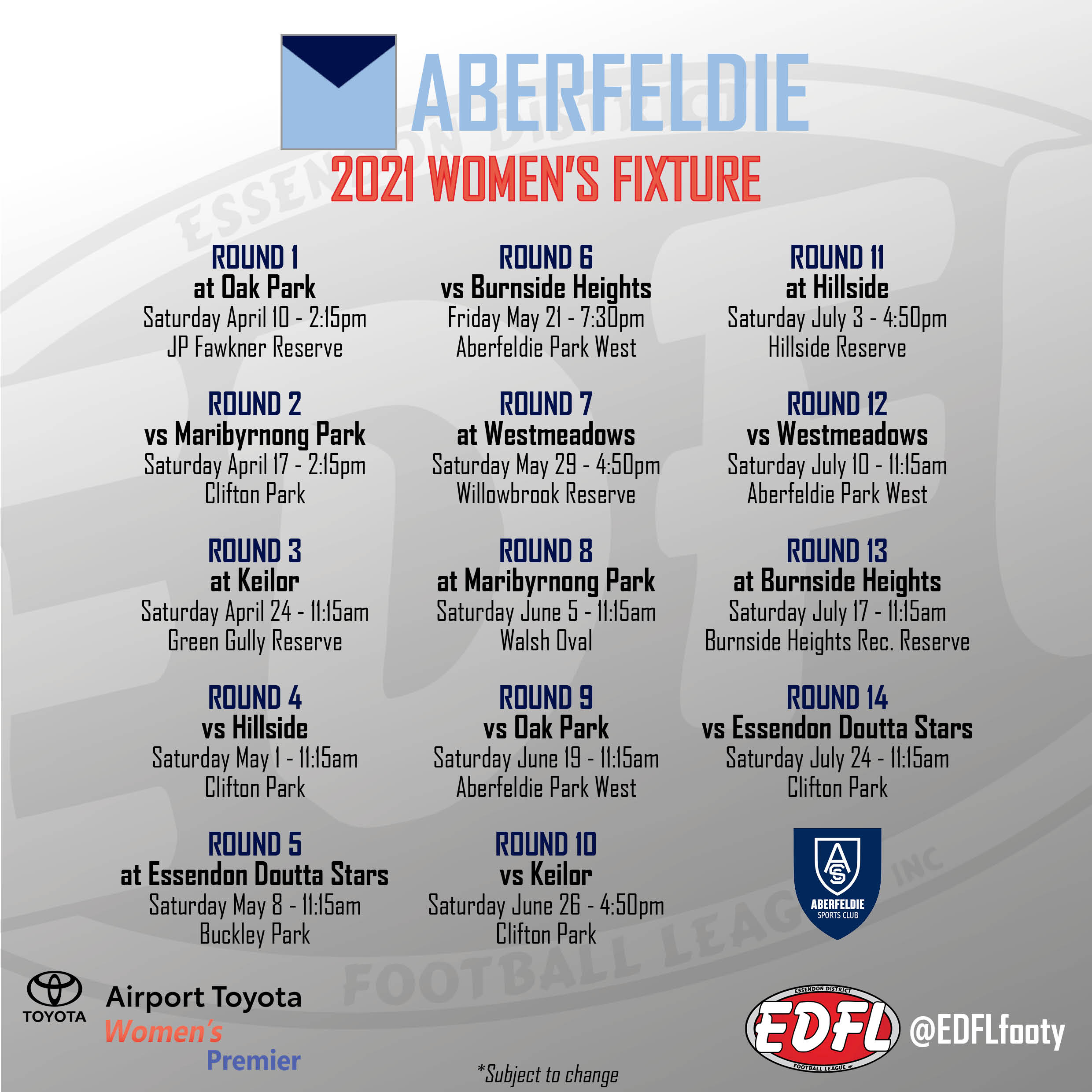 ---



BURNSIDE Heights had a tough 2019 season with injuries but were still able to make finals after a grand final appearance in 2018.
The Bears, who will again be coached by Jeff Stevens, have a number of experienced players in their line up who set them up nicely every week.
Injuries were an issue for the Bears in 2019 which saw them slip down the ladder, but it had one benefit with a number of their under-18s getting some senior experience that will only make them better this year.
Expect some of those players to step up and have a real impact this year.
The program continues to grow, with the Bears fielding two women's sides in 2021.
2021 FIXTURE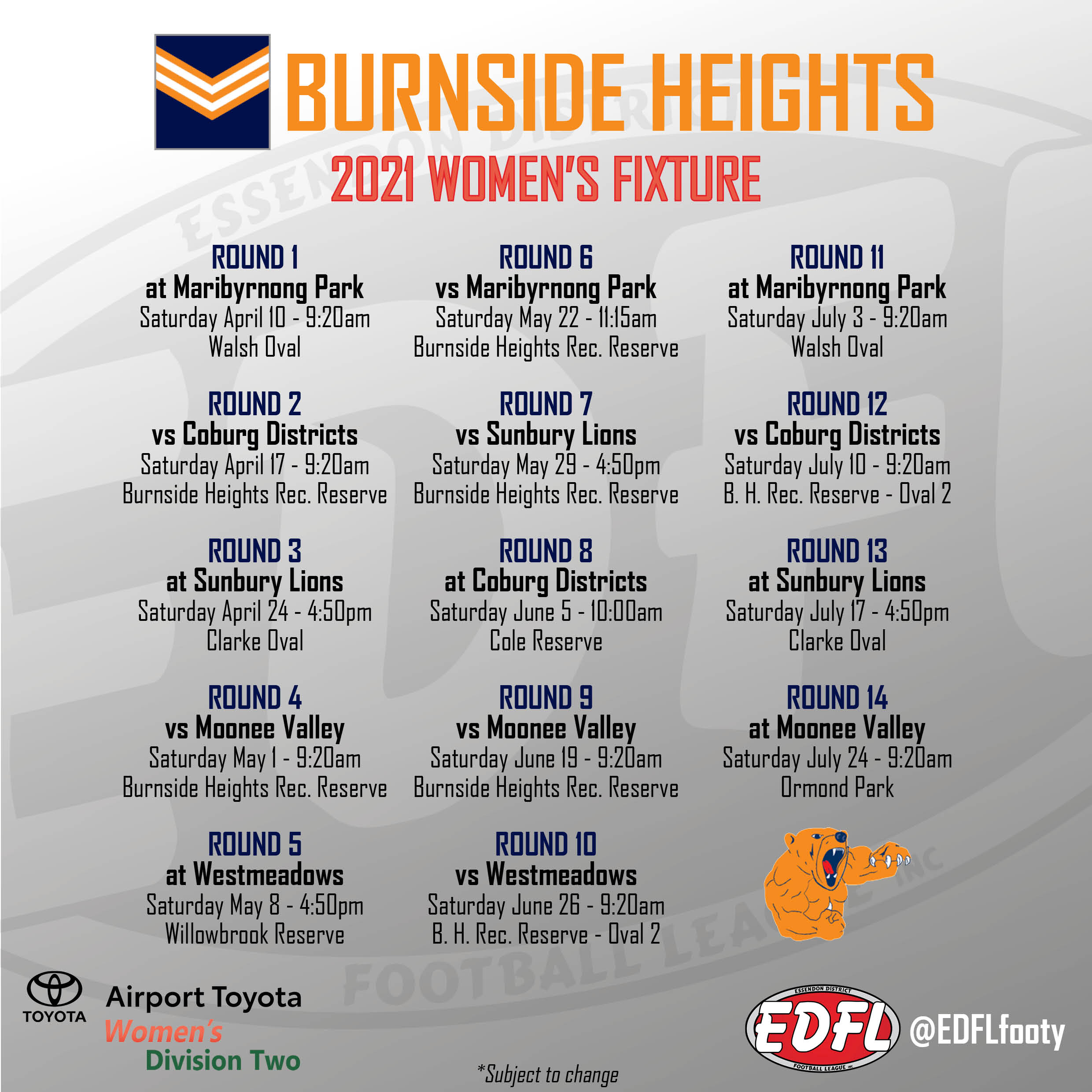 ---


ESSENDON Doutta Stars will get their first opportunity at the highest level in 2021 after winning the 2019 Division 1 flag.
Craig Rutley, who is the Stars' games record holder, will coach the side this season having previously coached junior girls sides.
There hasn't been many clearances in or out of the club, so you would expect to see many of the familiar faces we got to know in 2019.
The challenge for the Stars is taking that next step up against some very talented players. 
Expect Aleesha Hobbs, who won the Division 1 best-and-fairest and goal kicking award in 2019, to be among those leading the pack having previously played at Premier level with Aberfeldie.
2021 FIXTURE
---


HILLSIDE were the surprise packets of the 2019 finals series, but don't expect them to fly under the radar again.
The Sharks are well coached by Justin Fairservice, who was named coach of the 2019 Premier Division Team of the Year.
The Sharks' strength was the number of different options that they had coming out of defence who could break a game open.
They've been boosted by the arrival of several players from Melton Centrals, adding some more depth and they will also have an under-18.5 team this season.
2021 FIXTURE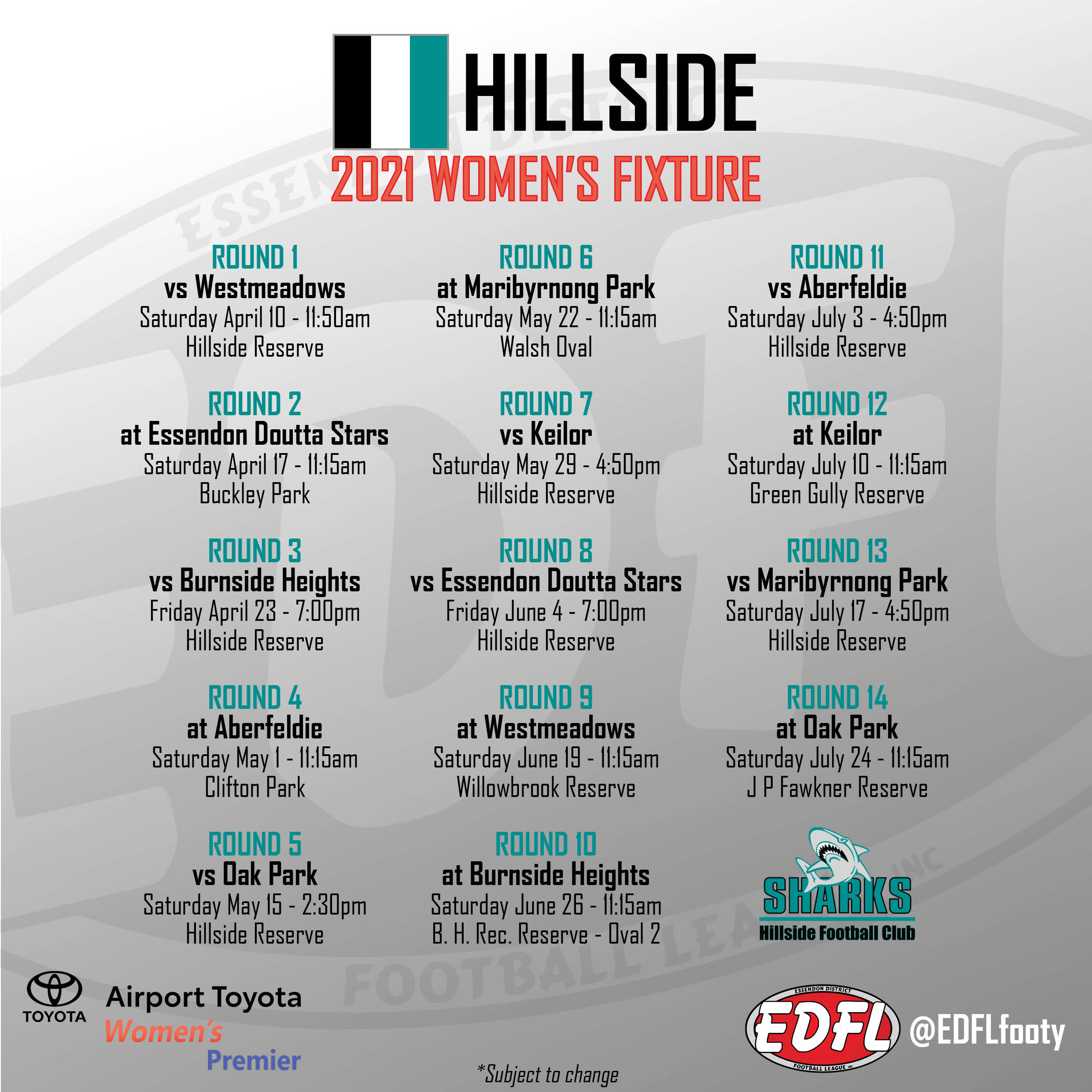 ---


KEILOR made headlines early in the pre-season when they announced the signing of Shannon McFerran as coach for 2021.
McFerran, who was Carlton's VFLW coach, has a playing and coaching record that not many people can match.
Like Abers, the Blues have had a number of players step up into NAB League and VFLW.
From their 2019 grand final side, Isabella Rowland, Christie Roberts, Laura Wright, Marthese Zahra, Alexandra Volk and Erin Bult have put in clearances since the end of the 2019 season, with some of those playing VFLW.
The Blues' junior program has been a strength in recent years, but the club won't have an under-18.5 team this season, which might hurt their depth.
2021 FIXTURE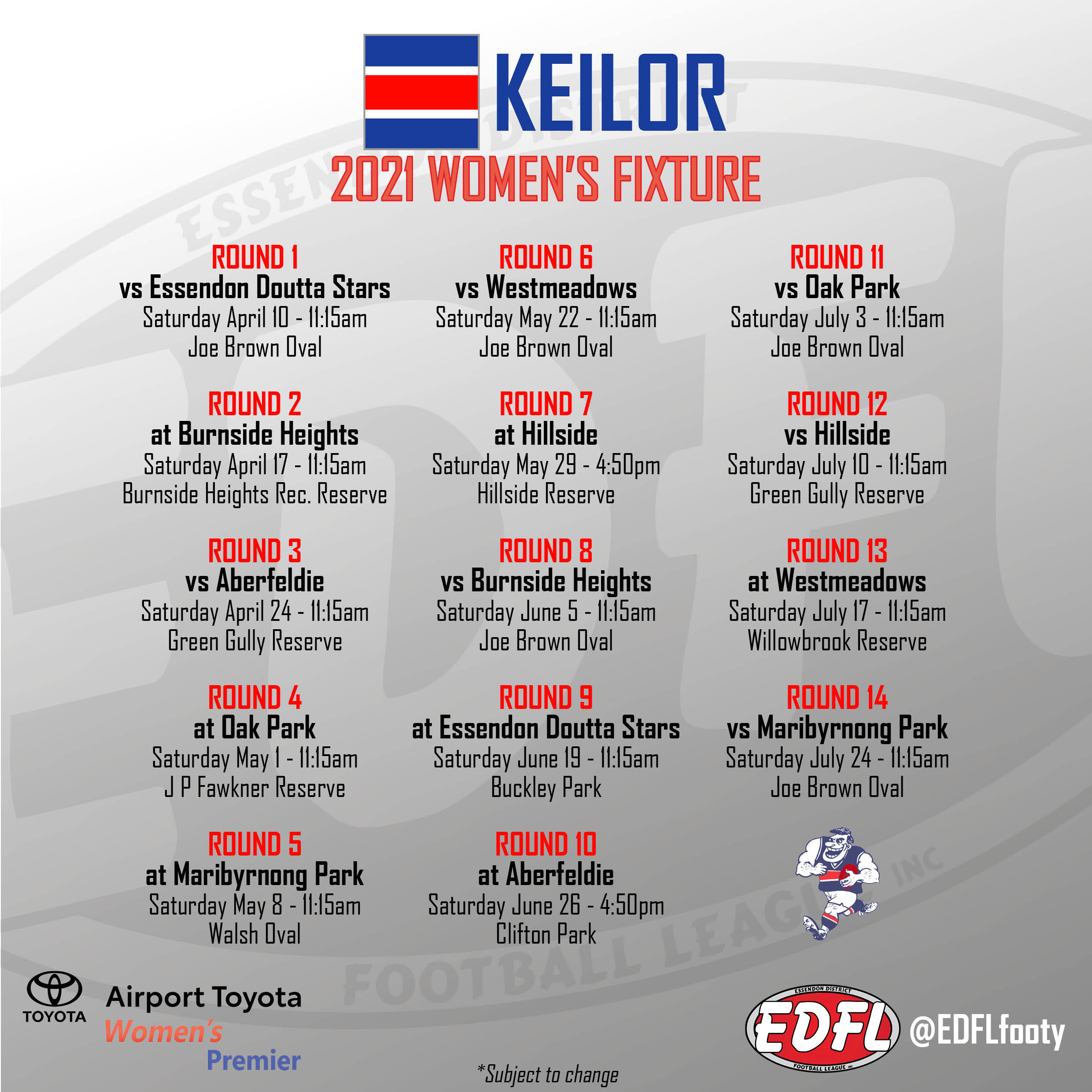 ---


MARIBYRNONG Park is in a similar position as the Stars, stepping up to the top division for the first time after making the Division 1 grand final in 2019.
Charlie Fenech continues on as coach, which will help with some continuity with the side.
The club has had a number of clearances for players from the VAFA, so there could be several new players taking to the field this season.
The Lions are set to have extra depth, as one of four EDFL clubs fielding two women's sides.
They are also one of only seven clubs to field an under-18.5 team this season, so the future is bright at the club.
2021 FIXTURES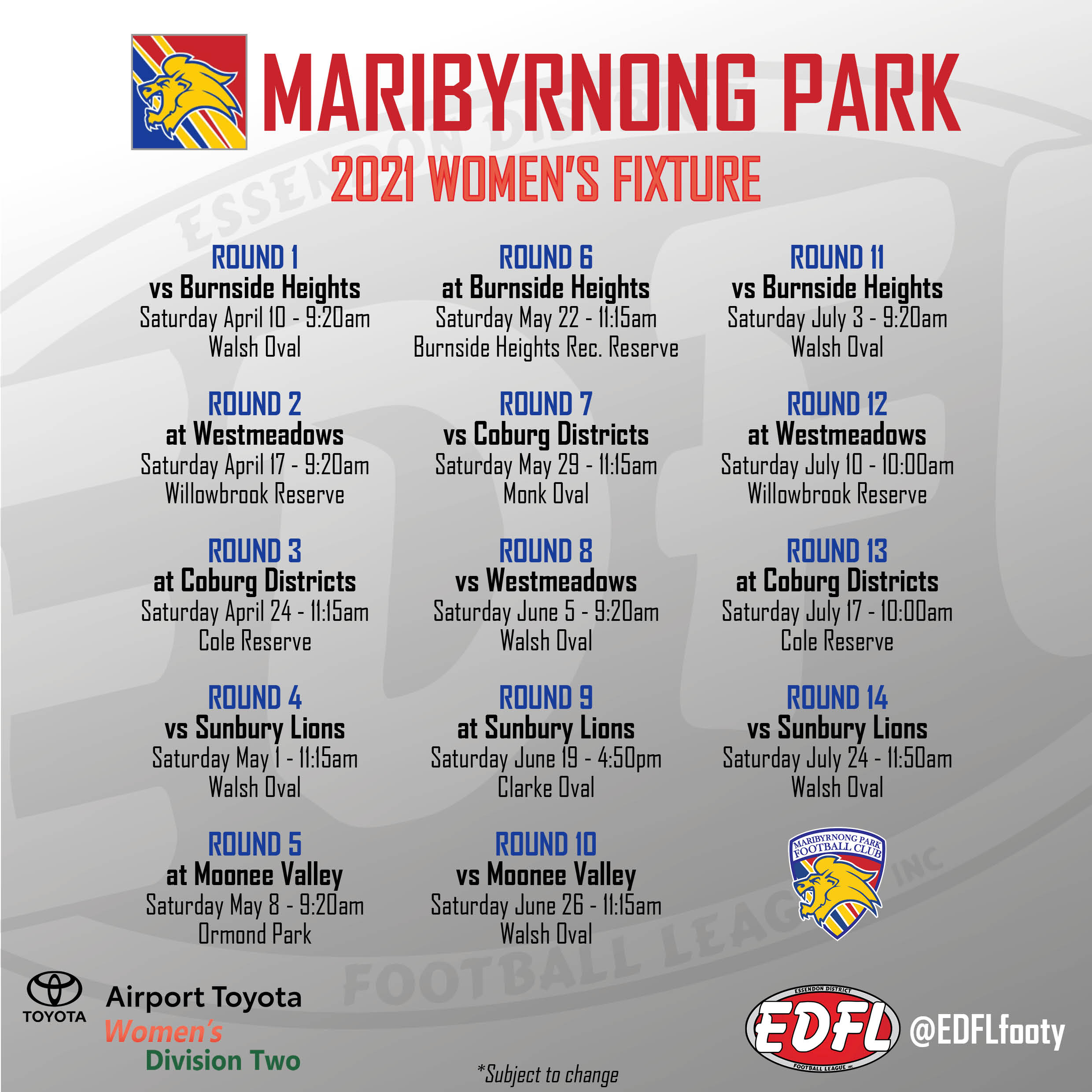 ---

OAK Park may be one of the newcomers to the competition, but they've made an instant impact on the recruiting front, which has resulted in the Kangaroos starting in the top division.
Former Keilor Park coach Brent Cooper is the club's female football coordinator and a few of his former players will pull on the blue and white.
At least eight former Devils players have signed with the Kangaroos, including Samantha German and Meghan Patrick.
Lessey Hodgkinson will coach the side in its inaugural season.
Hodgkinson has an extensive junior coaching background, including being involved at the Calder Cannons.
2021 FIXTURE
---



WESTMEADOWS is one team to watch having signed a couple of big names as it tries to return to finals.
The Tigers' 2019 season was riddled with injuries, but they weren't far off a grand final spot in 2018, so we know what they can do.
They will get back forward Danielle Linton, who missed the 2019 season through a serious knee injury.
Former Keilor star Gemma Wright, who won Carlton's VFLW best-and-fairest 2019 and was on Geelong's AFLW list last year, signed with Westmeadows before 2020, while former St Kilda ruck Courteney Munn has also joined the club.
They are two of the biggest signings in Airport Toyota Women's - Premier.
Westmeadows legend Wayne Spicer will coach the side, with the Tigers set to field a second women's side comprising of many of their under-18.5 players in Division 2.
2021 FIXTURE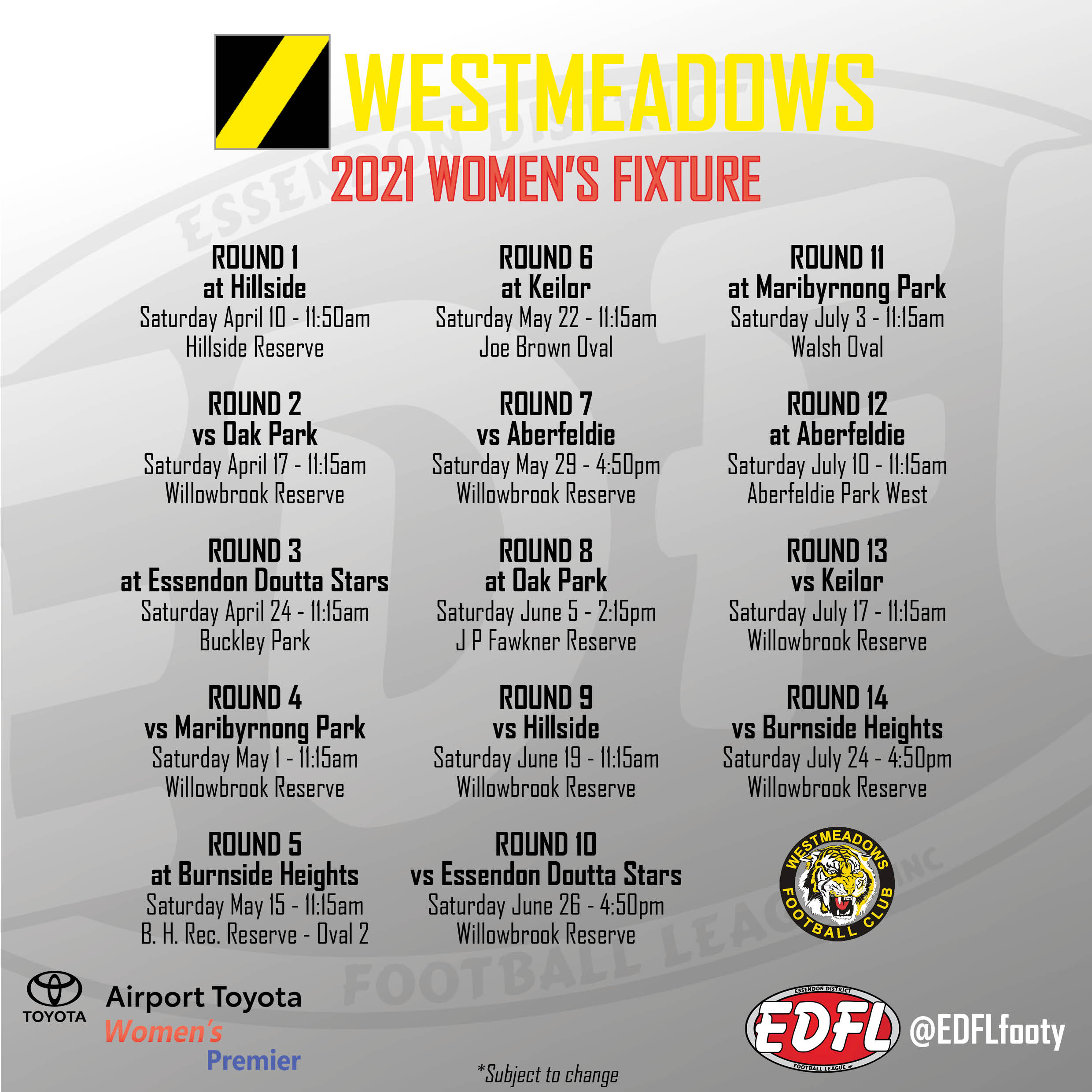 ---

WHILE every team will be looking forward to getting on the field, for Airport West, Round 1 has been a long time coming.
After forming a team for the 2020 season, the Eagles were stuck on the sidelines for the year with no football.
Under coach Anthony Montrose, who previously coached Tullamarine, the Eagles will be keen to show what they can do.
The Eagles have signed players from a number of different EDFL teams, so they're likely to field a mixture of experience and youth in their first season.
Sometimes new teams do struggle, but with every team having not played for 18 months, that should have less of an impact.
2021 FIXTURE
---

IT is one of the newcomers to the competition, but Gisborne brings plenty of experience.
The Bulldogs have been strong performers in the AFL Goldfields competition for a number of years, including a fourth place finish in 2019.
Coached by former Calder Cannons girls assistant Jason Peak, the side has re-signed a number of key players for the 2021 season.
It wouldn't be a surprise to see the Bulldogs play finals in their first season, having regularly played finals previously in other competitions.
They also have a strong junior program and are one team to keep an eye on.
2021 FIXTURE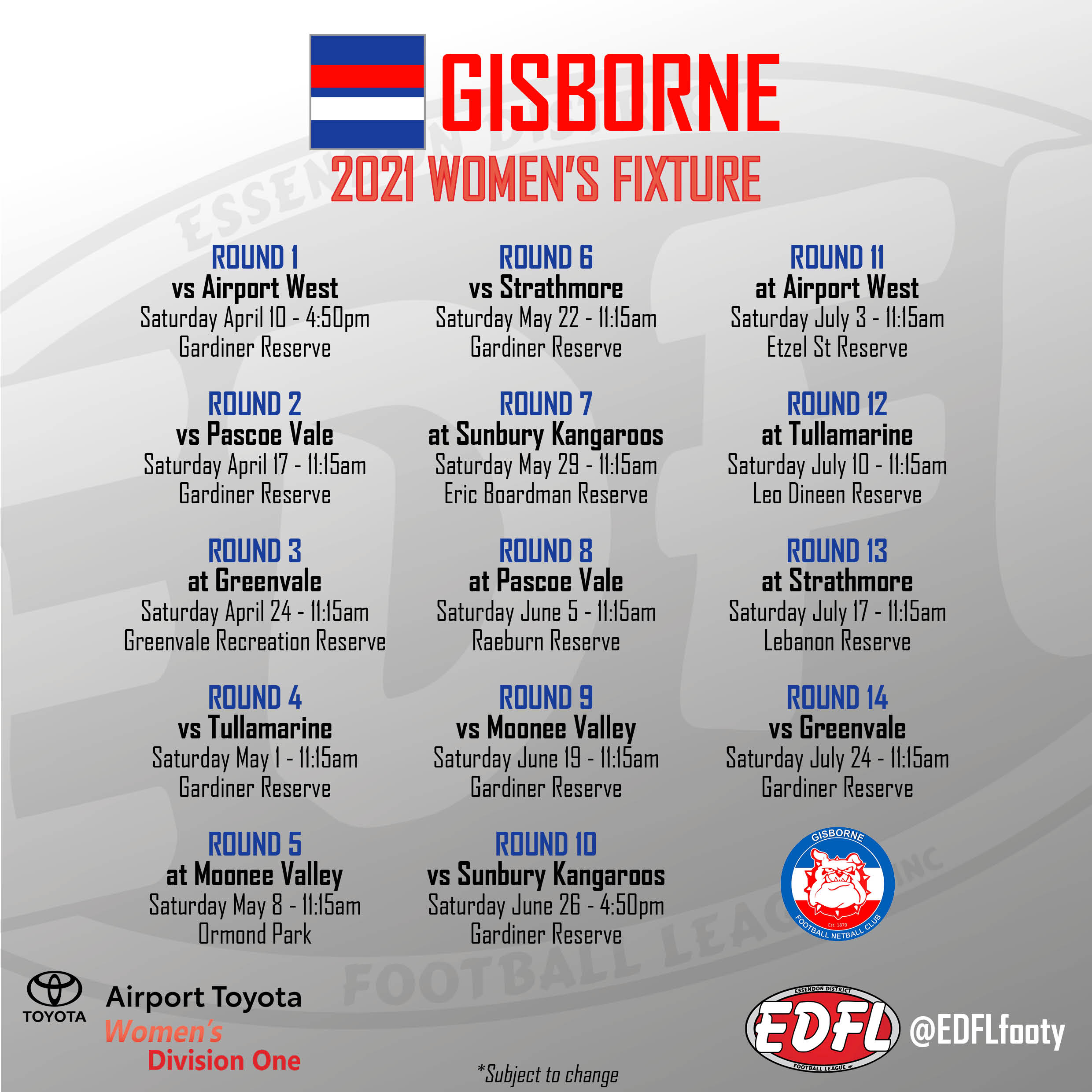 ---


GREENVALE is wanting to build on a solid first up season in 2019, as they start to grow the program, with a real focus on development.
Troy Newton takes the reins at the Jets, having previously been involved at both VFLW and NAB League girls.
Newton told the EDFL Tonight Podcast that the idea of having his own team and being able to develop them was behind his decision to take on the role.
He said there would be a big focus on development this year.
A few former Cannons have made their way to the Jets as well.
Alana Barba is on Essendon's VFLW list and starring, while Haylea Cooke and Zoe Hardiman are a couple to watch out for at the Jets.
A few other former Roxburgh Park players have also made the move, adding some more experience to the side.
2021 FIXTURE
---



MOONEE Valley is a team on the rise in the competition.
After a strong debut season, the Fog is expected to continue to develop in the coming years.
Paul Edwards has been re-appointed as coach.
The Fog seemed to have kept most of the squad together and added a few more players.
Keilor premiership player Christie Roberts put in a clearance for the Fog for the 2020 season, so she would be a big in if she plays.
Star forward Georgia Marsland has a VFLW contract, so her availability could be determined on that.
2021 FIXTURE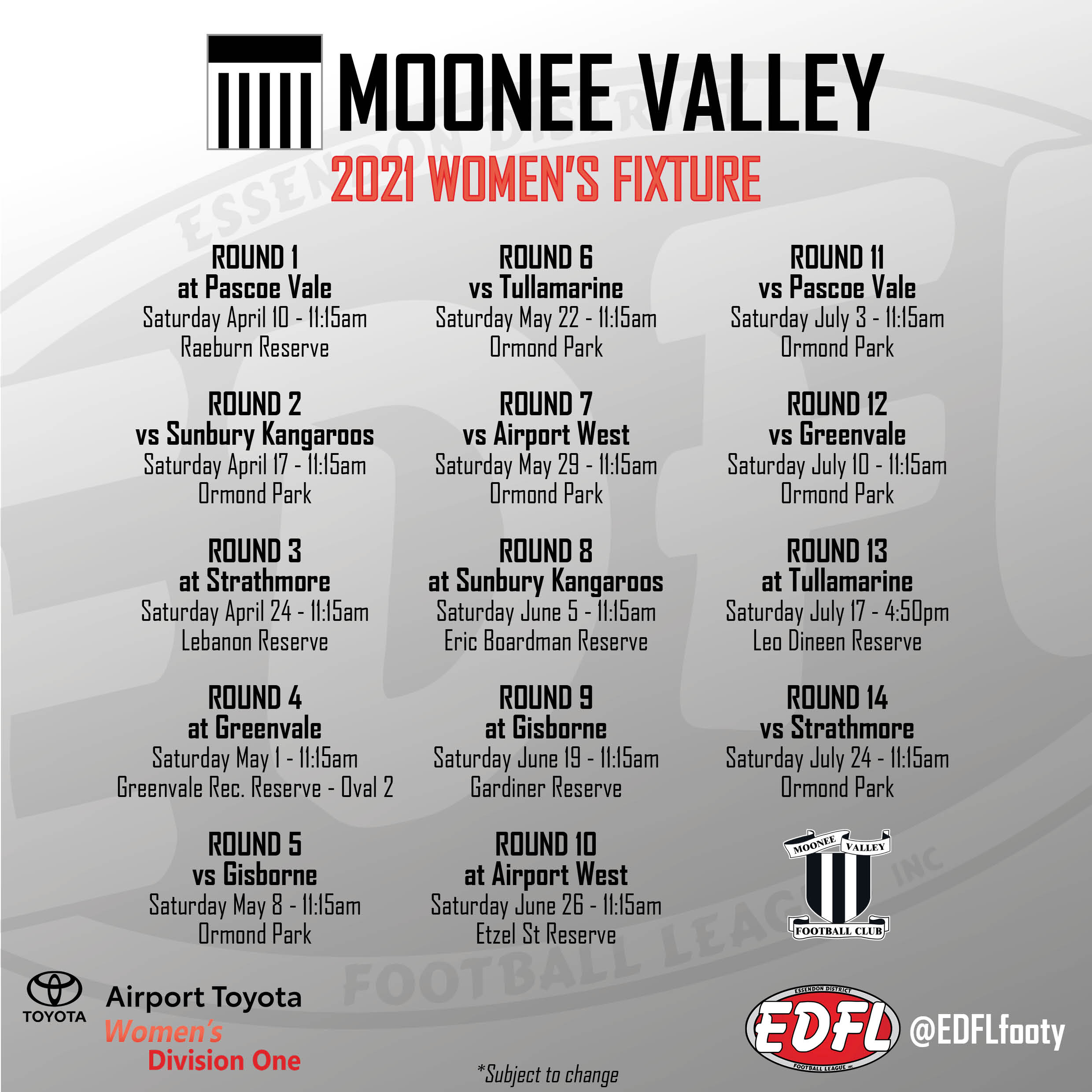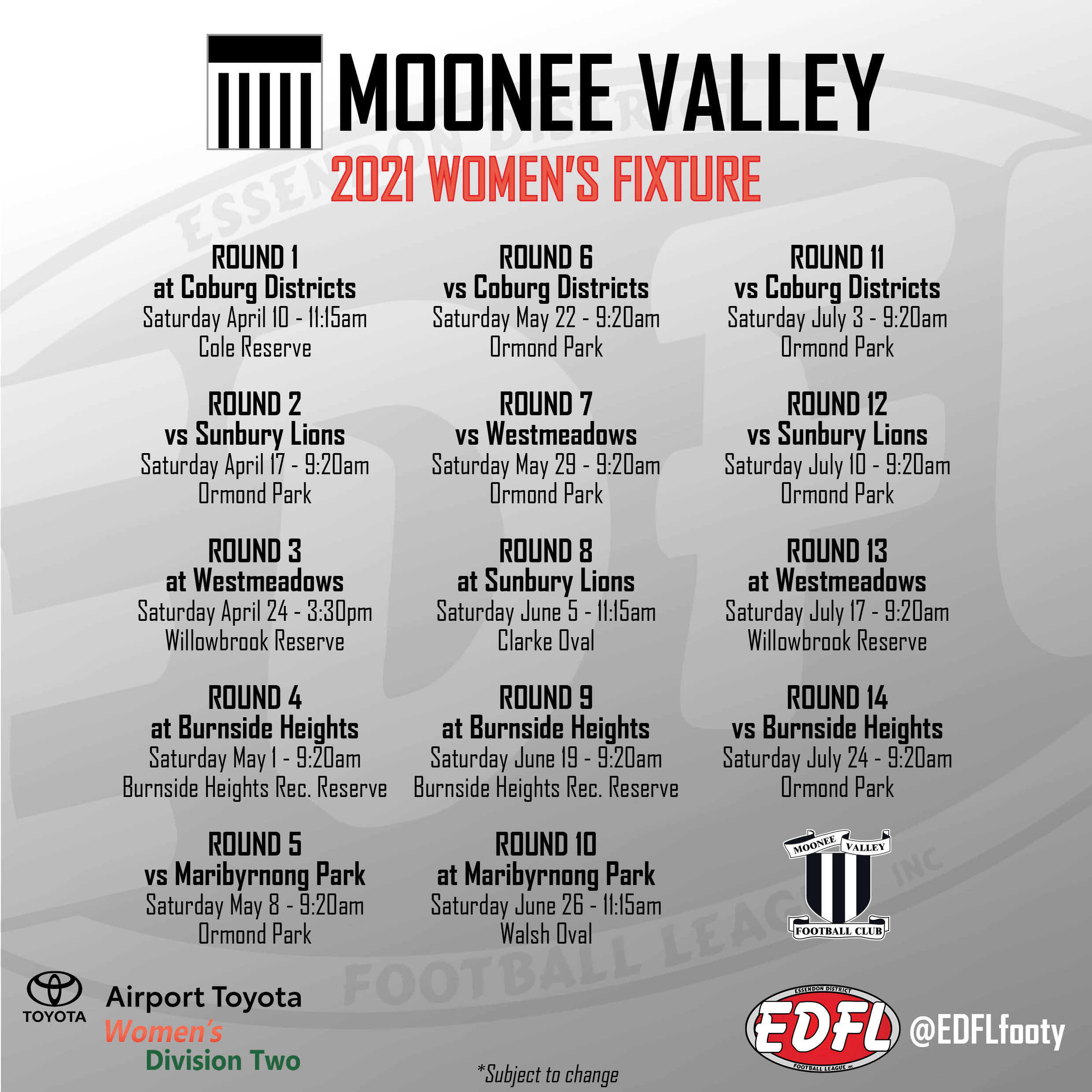 ---

PASCOE Vale has seen the highs and lows of football in the last two seasons of the women's competition.
A premiership in 2018, before struggling to get any wins on the board in 2019 following the departure of a number of players.
Grant Ogston, a premiership player with the Panthers, has been re-appointed as coach following the cancelled 2020 season.
He was assistant coach in 2019. 
There haven't been too many clearances for the Panthers, so expect them to build from within.
2021 FIXTURE
---


LIKE many teams in Airport Toyota Women's - Division 1, how Strathmore will go this season is an unknown.
They struggled with numbers at times in 2019 and were on the end of some big losses against key teams up in Premier Division.
Pre-season results show that the Mores are likely to be more competitive this season.
Expect to see a fast-paced attacking game style from the team, with many of their juniors starting to come through.
Bernadette Marantelli will coach the side this season.
A couple of Mores players have played a couple of practice matches with Coburg, which could leave them in good stead ahead of the EDFL season.
2021 FIXTURE
---


ONE of the stronger teams in the competition the past two years, it's a little bit of a shock to see the Sunbury Kangaroos drop down a division. 
Having played finals in both seasons so far, the Kangaroos have been hit by key player departures, including former captain Tylah Bell, league best-and-fairest winner Bailee Said, Simone Craige and Regina Said.
The departures will give other players an opportunity to step up and the club is still keen to put out some strong performances.
Former Keilor coach Ron Sikora takes on the coaching reins and his record speaks for itself, so the Kangaroos can't be discounted despite their departures.
2021 FIXTURE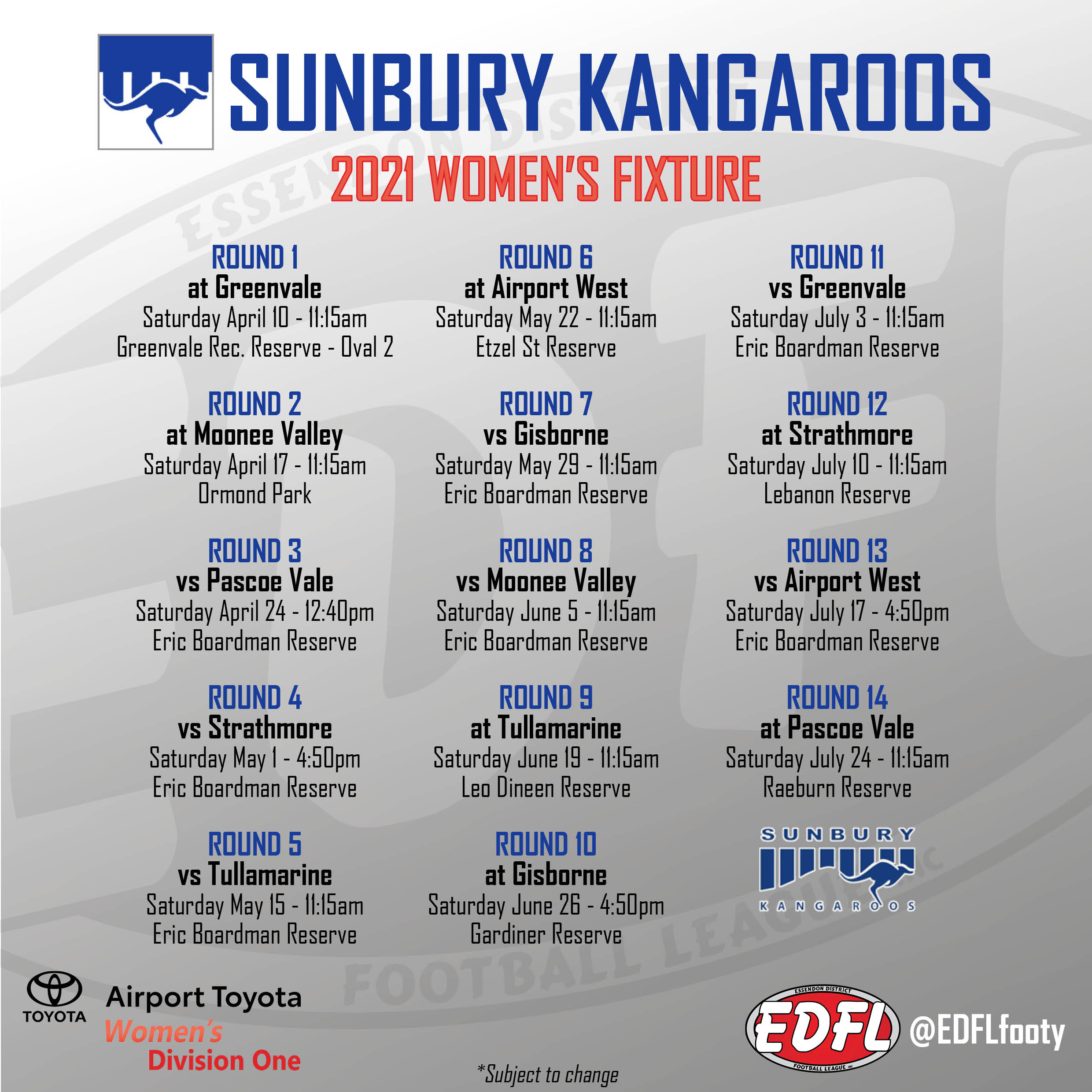 ---

TULLAMARINE made a solid impact in their first season and expect them to build on that.
While they didn't make finals, they were in every game and making it a contest.
Peter Labbard, Tullamarine's president, will coach the side this year having taken over ahead of the 2020 season.
The Demons have a number of key players returning, led by Tricia Devine, who is one of the best players in the competition.
Expect them to be in the finals mix.
2021 FIXTURE
---


COBURG Districts will be hoping to finally get on the board in EDFL women's football.
After a winless season in Division 1 in 2019, it's not surprising to see them in Airport Toyota Women's - Division 2.
Ron McGill, who has been part of Coburg Districts' coaching staff before, has been appointed coach.
He has been working closely with the junior female coaching staff to create a female pathway.
The Lions have added a couple of players from other clubs, but it appears they will look to build from within.
2021 FIXTURE
---

NO matter the division or the opposition, the Sunbury Lions are always in for the contest and will be a hard team to play against.
They've dropped down a couple of divisions, which will give the newer players the opportunity to develop and grow as a team.
Daniel Brady, who hasn't coached female football before, takes on the coaching role. 
The club has had a strong junior program in recent years and will again field an under-18.5 team, which will help see players flow through into the senior team.
2021 FIXTURE