---
Every team has been recognised with representation in this year's Airport Toyota Women's Premier Division Team of the Year.
With 15 players selected from the teams in the top four, the bottom half of the ladder was well-represented with nine players making the final team from the lower-placed sides.
Ladder leaders Keilor had four players selected with young star Kaitlyn O'Keefe named as captain in the middle of the park for the team.
Teammate and leading comp goal kicker Olivia Manfre lines up at full forward with Megan Neill in the ruck and Leah Spargo named in the back pocket. 
Alongside Manfre in attack are dangerous forwards Emily Paterno from Hillside, Westmeadows's Courteney Munn and Oak Park's Isha Atik.
Gabrielle Mahoney and Chloe Portelli make up the half forward flanks.
Rachael Jackson lines up at centre half back, the same position in which she was named in 2019, while Roselyn Buje takes her spot at full back.
Buje's Lions teammate Alex Kilty fills the back pocket opposite to Spargo.
Kylie Kennedy and Mikayla Barnes round out the back six on the two flanks.
Out wide, Ella Nickolaus and Gloria Elamaly take the two wing positions, while consistent seasons from Gemma Wright and Hannah Ibrahim see the Premier Division stars in the Rolls Royce midfield positions of ruck rover and rover.
Making up the bench is Burnside Heights duo Ebony Stevens and Sina Mason, three-time Team of the Year recipient Siobhan Carlton, and first timers Andrea Gobbo, Shanel Camilleri and Olivia Storer.
Maribyrnong Park's Charlie Fenech was nominated as Coach of the Year by his peers.
---
2021 Airport Toyota Women's Premier Division Team Of The Year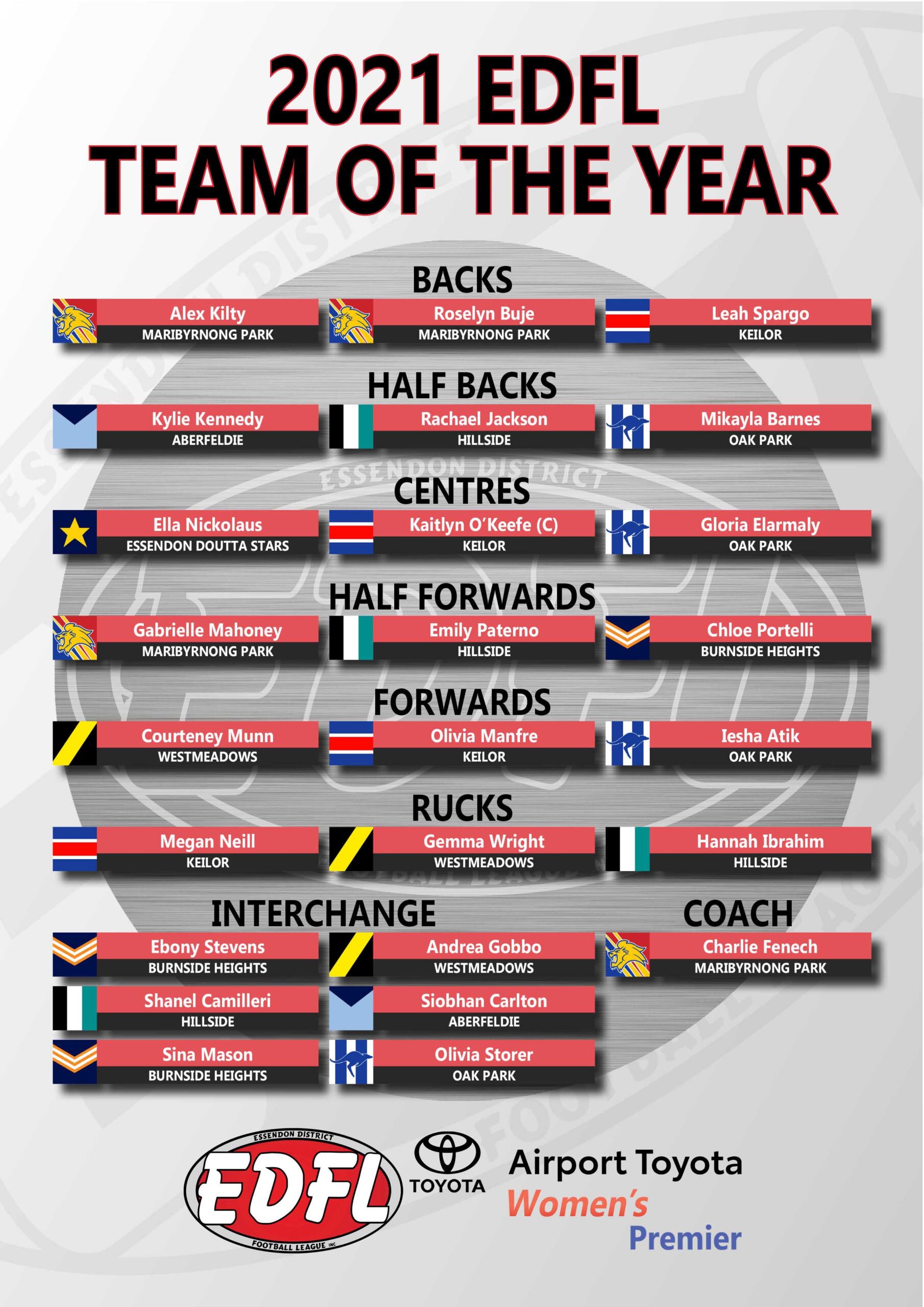 ---
SELECTION PROCESS & CRITERIA
All EDFL Teams of the Year are compiled based solely on the input of each club's senior coach.
The 2021 Airport Toyota Women's Premier Division Team of the Year was to recognise the best players of the 2021 home-and-away season.
Other factors such as reputation or form in previous seasons were not to be taken into account.
The Coach and Captain of the Year were also determined based on the feedback provided by the senior coaches.