---
The top two in Airport Toyota Women's Division One have dominated this year's Team of the Year selections.
Moonee Valley and Strathmore make up more than half the selected side, with 13 players from the two clubs making up the final 24.
The Mores are represented the most in the final team with eight selections total.
Ashton Driscoll, Brittany Gee and Rebecca Said make up a trio in the back six, while Georgie Richardson can be found on the wing.
Pontif Janjamuruen's impressive goal kicking feats were also noticed by the coaches with the young gun named in the forward pocket, with another Strathmore rising star, Chiara Guarino, being named as the team's rover.
Eloise Freeman and Clara Toperosa were named on the bench.
From the Fog, Nicole Chiera and Division One leading goal kicker, Madeline Price, fill the two key position spots up forward.
In defence, Nadia Valenti is named at centre half back with Gisborne's Brianna Woodburn selected at full back.
Claire Bourdon's leadership has been recognised by the senior coaches with the Gisborne midfielder named as captain in the centre of the park.
Moonee Valley teammates Bianca Funes and Amelia Radford make up the remainder of the midfield positions. 
After being re-graded into the division in Round 5, the Sunbury Lions managed to get three players selected in the team with Terira Fry named at half back, Alisa Magri in the forward pocket and Emily Brady in the ruck.
Greenvale's Haylea Cooke and Gisborne's Natalie Dowdy provide plenty of talent on the half-forward flanks.
A pair of Pascoe Vale Panthers make the bench in Ashlee Thorneycroft and Marie Napoli as did Greenvale duo Zoe Hardiman and Kiara Delia.
Jason Peak was recognised as the Coach of the Year by his peers.
---
2021 Airport Toyota Women's Division One Team of the Year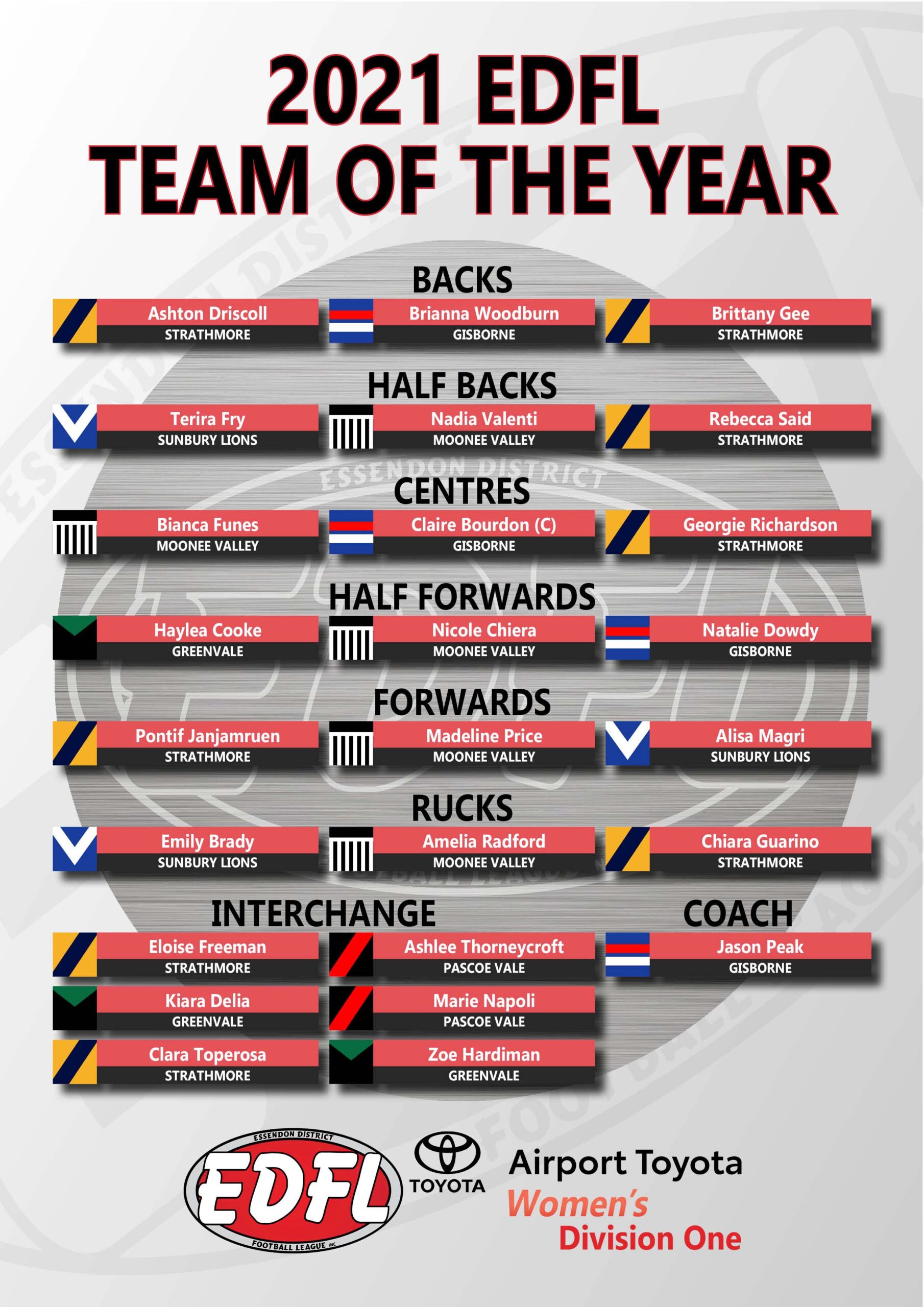 ---
SELECTION PROCESS & CRITERIA
All EDFL Teams of the Year are compiled based solely on the input of each club's senior coach.
The 2021 Airport Toyota Women's Division One Team of the Year was to recognise the best players of the 2021 home-and-away season.
Other factors such as reputation or form in previous seasons were not to be taken into account.
The Coach and Captain of the Year were also determined based on the feedback provided by the senior coaches.