---
WE have a huge schedule of EDFL Women's and Junior finals games coming up this weekend.
In EDFL Women's, Hadfield's Martin Reserve will host both of Saturday's EDFL Women's Preliminary Finals, beginning with the Division 1 Prelim between Keilor Park and Maribyrnong Park from 10:00am.
Keilor will then take on Hillside in the Premier Prelim from 11:50am.
On Sunday we'll have Junior Grand Finals taking place at Windy Hill, while all remaining Boys and Girls Preliminary Finals in Divisions 1 to 4 will be played across several other venues around the league.
Click here for all fixtures coming up this weekend, and see below for entry details across all EDFL finals venues.
---
ENTRY PRICES - ALL VENUES
Adults: $10.00
Valid Aged Pension Card Holders (must produce aged pension card): $5.00
Valid Secondary Student Concession (must produce photo ID card): $5.00
Children under 14: FREE
ANIMAL ACCESS RESTRICTIONS
No animals will be permitted into any finals venues, except for dogs to assist people whose vision is impaired.
---
MATCH FILMING - JUNIOR GRAND FINALS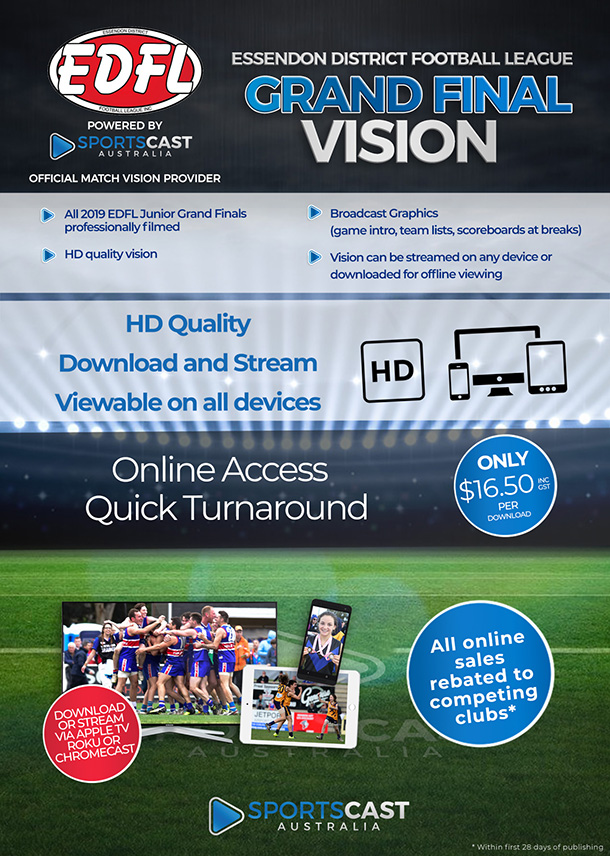 As the EDFL's official and exclusive supplier, the league will only permit SportsCast Australia to film EDFL grand final matches.
The EDFL will place signage at all entrance points at each finals venue, advising all patrons that filming of grand final matches will not be permitted by anyone other than SportsCast Australia.
Patrons will be allowed to take short time video on their smart phones.
Any patrons caught filming during grand final matches will be asked to stop filming or risk being ejected from the venue.
SportsCast Australia will provide as follows:
 - Matches filmed on a Sunday
 - Editing starts on Monday
 - ETA on download access is Thursday 
 - Access will be via the Grand Final page on edfl.sportscastcloud.com
 - Payment via credit card
 - Customers will receive an email with stream/download
 - Click here for instruction sheet
---
STILL PHOTOGRAPHY - WINDY HILL GRAND FINALS
For the grand final games being at Windy Hill on Sunday August 18, EDFL photo supplier, Jamie Morey Photography, has exclusive rights to take photos.
Digital photos (including action shots and post-game celebrations) will be available for purchase here at a later date.
Any other patron caught taking photos with a camera other than a smart phone during grand final matches or post-game presentations will be asked to stop taking photos or risk being ejected from the venue.