---
2018 STRATHMORE COMMUNITY BANK DIVISION 2 GRAND FINAL
ROXBURGH PARK v EAST SUNBURY
Saturday 2:15pm @ Windy Hill

In: Jake Talintyre, Jake Hopkinson & Osama Saad
Out: None
In: Lucas Shaw, Jamerson Campbell & Corey Mobilio
Out: None
---
HISTORY will be made at Windy Hill when either Roxburgh Park or East Sunbury lifts up the premiership cup for the first time.
The Magpies finished the season on 12 wins and six losses and have won their last six games coming into the grand final.
The Thunder was a big chance to claim the minor premiership at the start of the season, but a coaching change mid-season saw them slip to fourth with 11 wins and seven losses.
But this clearly doesn't bother the Thunder as they were responsible for knocking out serious contenders, Moonee Valley, two weeks ago, before giving the Northern Saints a massive wake-up call in a thumping win last week.
It's hard to argue which team is in better form, as East Sunbury is also on a nice run of wins with four in a row in the lead-up to this.
This game is set to be an attacking one, with both teams liking to run-and-carry the ball quickly through the corridor to set up plenty of goals.
This is thanks to some key midfield delivery from both sides.
Roxburgh Park skipper, Harley Short, has been in scintillating form this season and has been a real leader through the midfield.
The same can be said for the Thunder's Brad Bernacki, who has been able to break away from opponents with ease thanks to his pace and foot skills.
The battle between these two could be telling, but the forwards at either end could be in for a big day, too.
Roxy's Luke Capuano has been dominant inside 50 this season and has kicked 66 goals from 18 games, finishing second in the goalkicking behind Burnside Heights' Josh Covelli.
The Thunder has to lock him down on Saturday because otherwise, he'll run a mock.
Capuano has kicked a combined nine goals in his three games against East Sunbury and could be in for another big performance if he is able to roam free in the forward line.
He'll have to contend with Kamen Ogilvie at the other end, who is in red-hot form for the Thunder, coming off a four-goal performance against the Northern Saints.
He kicked 22 goals from 20 games this season and could be set for another big day.
Last time these two sides met, just one point split the two at the final siren, with Roxburgh Park getting the win in Round 18.
The Thunder got the win in their first match-up this season while the Magpies rebounded in the second and third clashes.
Roxy's Harley Short and Ferras Merhi were named in the bests in two of the three matches against the Thunder while for East Sunbury, Kamen Ogilvie was the one who was named in the bests twice.
With stars aplenty and some thumping wins as of late, both sides will be going into this match with the belief that they can continue their good form on their biggest stage yet.
Expect a thrilling encounter between two sides who will be hungry to finally taste premiership glory in the EDFL.
---
GRAND FINAL ENTRY PRICES
Adults: $20.00
Valid Aged Pension Card Holders (must produce aged pension card): $10.00
Valid Secondary Student Concession (must produce photo ID card): $10.00
Children under 14: FREE
Your copy of The Footballer comes free with entry into the venue.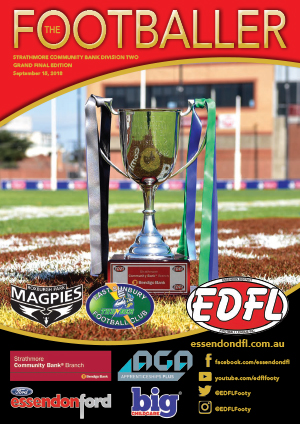 ---
ANIMAL ACCESS RESTRICTIONS
Please note that due to recent incidents, the EDFL has decided that no animals will be permitted into any finals venues, except for dogs to assist people whose vision is impaired.