---

SUNBURY KANGAROOS v MOONEE VALLEY
🎥 Broadcast Game 📻
Saturday 2:15pm at Windy Hill
WHAT will it take for Moonee Valley to pull off an extraordinary upset?
The Sunbury Kangaroos took Strathmore Community Bank Division 2 by storm this season and coming into Grand Final Day, no one has been able to beat them yet.
They were at their clinical best two weeks ago against the Fog in the second semi, but Sunbury didn't come away with its 32-point win completely unscathed.
Sunbury's two leading goal kickers Lachie Baddeley and Josh Burgess will enter the decider under an injury cloud while others, including David House, have ongoing niggles of their own.
You'd have little doubt there are some Moonee Valley players carrying niggles of their own, but surely the Fog could find an advantage if a handful of key Kangaroos take the field at less than 100 per cent.
Both sides have solid depth and plenty of match winners who could make Windy Hill their own.
For Sunbury, Brenton Sutherland's influence in the ruck will be huge, while the likes of Matt Quigley and Tierone Cuffe could likely be shrugging off tags throughout the day.
The Valley have a few aces up their sleeves as well, with Cory McGrath, Ned Wilson and Braden Padmore all capable of doing damage in all parts of the ground.
The expected wet weather leading into the weekend could also play into the Valley's hands, as Sunbury prides itself on its ability to spread and hurt you on the burst.
As the second semi started to tilt the Kangaroos' way, they were able to move the ball freely from coast to coast and hurt Moonee Valley on the scoreboard.
The wider expanses of Windy Hill will suit Sunbury's preferred avenues to goal so it's vitally important for the Fog to stick to their structures throughout the day.
Windy Hill takes rain very well, so the track won't get too heavy.
It will be slippery, however, so good ball use and skill execution will be at a premium.
Winning the hard ball will be as important as ever but once it gets on the outside, the game could come down to who better executes when going into attack.
Sunbury's overall experience and physicality could tip the game in the Kangaroos' favour, but if their execution is off, then Moonee Valley will be in the game.
Fog forwards Jordan Faba and Rocky Ferraro both did not play in the second semi and the game remained close for a half, before the Roos eventually kicked clear.
Faba returned for last week's prelim and booted five against Burnside Heights, while Ferraro was part of the selected 25 but did not take the field.
If both line-up here, then Daniel Gregory and his fellow Sunbury defenders need to be on top of their game.
If most individual match-ups inside 50 break even, then the game could be won in midfield and that is where Sunbury will look to find an edge with its superior depth.
---
ENTRY PRICES

Adults: $20.00
Concession: $10.00*
Under 14 years: FREE
Windy Hill Premium Viewing/Legends Bar: $30.00
*Valid Aged Care Pension Card Holders (must produce aged pension card)
*Valid Secondary Student Concession (must produce photo I.D. card)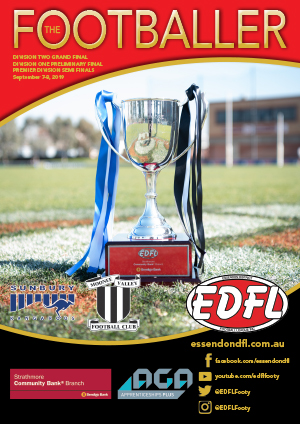 Spectators will get a FREE copy of The Footballer upon entry into all finals venues (while stocks last).
---
ANIMAL ACCESS RESTRICTIONS
No animals will be permitted into any finals venues, except for dogs to assist people whose vision is impaired.
---
MATCH FILMING & PHOTOGRAPHY
The EDFL will only permit approved media outlets and suppliers to take photos and film matches at all EDFL Finals venues.
Any photographers or videographers who are not wearing the official EDFL Media Coloured Vest will be asked to cease their activity immediately or risk being ejected from the venue.
All Media Vest requests are to be referred directly to adem.s@essendondfl.com.au.