---
FIFTEEN of the 22 players selected in this year's Essendon Ford Division 1 Team of the Year derive from the four finalists of the division.
Tullamarine, Craigieburn and Hillside each have four reps in the team, but in what some may consider a surprise, only three Airport West players made the cut.
In another surprise, despite winning just one game and ending the season with relegation, the coaches still managed to find room for two Jacana players in the final 22.
Jason Cloke garnered the necessary votes from the nine coaches to get the nod at centre-half back, while ruckman Billy Morrison was a popular choice as back-up ruck behind Taylors Lakes' Matthew Dalla-Libera.
East Keilor playing coach Ash Arrowsmith now has two Division 1 Team of the Year caps to go with his two Premier Division caps from his days at Strathmore, while 2016 Hutchison Medallist Victor Micallef (Hillside) is in the team for the fourth consecutive year.
Jackson Volpato (Hillside), Mitch Church (Hillside) and James Vistarini (Taylors Lakes) are in the team for a third consecutive time.
In total, just six players were retained from the 2017 team, while Russell Laurie (Tullamarine), Ryan Bongetti (Craigieburn), Brent Gordon (Craigieburn) and Cloke all reclaimed their spots from the 2016 side.
For the first time in 2018, the senior coaches were also asked to submit votes for both the captain and coach of the team (coach was previously automatically given to the premiership coach).
This year's captain and coach of the Essendon Ford Division 1 Team of the Year will be revealed at Thursday's EDFL Awards.
---
2018 ESSENDON FORD DIVISION 1 TEAM OF THE YEAR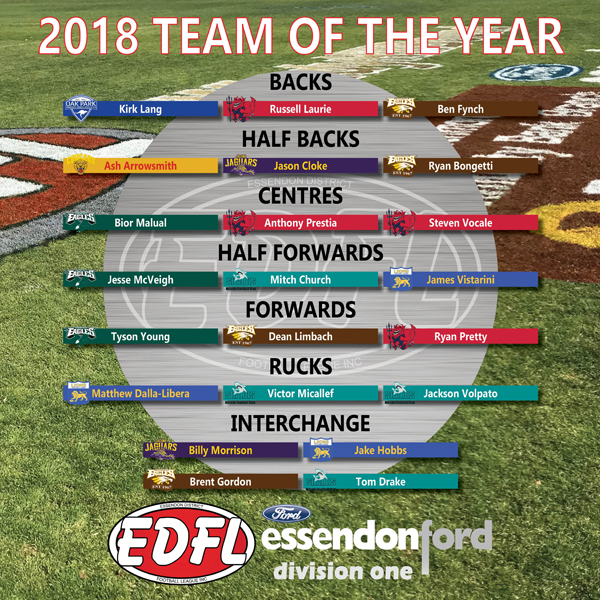 ---
SELECTION CRITERIA
The Essendon Ford Division 1 Team of the Year was to recognise the best players of the 2018 home-and-away season.
Other factors such as reputation or form in previous seasons were not to be taken into account.
In the period between the end of Round 18 and the start of the Finals Series, coaches were asked to provide who they believed were the best players (in position) of the 2018 Essendon Ford Division 1 home-and-away season.
There were no restrictions on how many players they wished to select from their own team, but they were encouraged to consider players from all nine teams.
Once teams were chosen, coaches were then asked to also appoint a captain for their selected team of 22.
Finally, they were then asked to select one of their fellow senior coaches as their Coach of the Year.
They were not permitted to select themselves.
The coach with the most total votes was appointed the coach of the 2018 Essendon Ford Division 1 Team of the Year.