---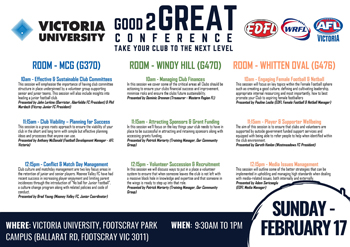 ON the back of the inaugural Club Volunteer Conference that was run in February this year, AFL Victoria in conjunction with the EDFL & WRFL will again be running a similar event early in 2019.
Event: Victoria University EDFL/WRFL Good 2 Great Conference
Date: Sunday 17th February, 2019
Time: 9:00am – 1:00pm (approx.)
Location: Victoria University, Footscray Park Campus (Ballarat Rd, Footscray VIC 3001)
Registrations here.
Please get in touch with your Development Manager if you have any questions:
Mark Morgan: North West: mark.morgan@afl.com.au
Shane Abdilla: Melbourne Central shane.abdilla@afl.com.au
Download the full flyer here.