---
ABERFELDIE v STRATHMORE
🎥 Broadcast Game 📻
Sunday 2:15pm at Windy Hill
TWO old local rivals will come together for the first time in a final since the 2014 Strathmore Community Bank Premier Division Grand Final, making for a compelling Prelim match-up here.
The Mores won a thriller by just two points on that famous day at Windy Hill and if we're lucky enough to get half of the drama that was delivered five years ago, then we're in for something special.
Aberfeldie will rightly enter the game as favourite, but Strathmore has the better form.
In last week's Elimination Final, the Mores produced a stunning defensive effort to restrict Pascoe Vale to just one goal for the entire day, with Lucas Cavallaro limiting Matthew Watson to one major and Liam Cavanagh keeping Daniel Archer goalless.
Andrew Vavra was again dominant in the ruck, while the experienced heads of Andrew Horne and Adam Iacobucci led from the front in midfield.
Strathmore has been that superbly consistent, you could have said the same thing about those three players in any of the seven consecutive wins the Mores have a strung together since Round 12.
Keilor aside, Strathmore is the hottest team in the EDFL right now and Matthew Horne's young men have every right to feel confident that they can cause an all-time great upset here against the champs.
Aberfeldie was more than competitive against the undefeated Blues in Sunday's Qualifying Final and some will argue it should have won the game in trying conditions at Windy Hill.
Most Aberfeldie topliners played well throughout the day, but they allowed Keilor to score five goals in the final quarter and as a result, got steamrolled in what was their first finals loss since the 2016 Grand Final.
Ryan Allan was named Aberfeldie's best after he kept Dean Galea goalless, while Jacob Craven had the job on Matthew Clark, who kicked three.
While Strathmore isn't a high-scoring team, it does consistently produce a solid amount of attacking opportunities each week.
Aberfeldie will be relying on its highly decorated back line to be at its best, otherwise Strathmore will be able to hurt them on the scoreboard.
The midfield battle will be vital, as Vavra will try to overpower the less experienced Jorden Braddy.
However, at ground level, Aberfeldie will look to the likes of Luke Blackwell, Sam Cattapan and Caleb Hislop to outwork the Mores and deliver quality ball into forward 50.
Both Josh Pound and James Peters are proven finals performers and will be crucial elements in Aberfeldie's forward structure, while Jayden Foster will serve as the main go-to tall option.
The Mores back line will already have their hands full with those three, but it's also important they look to restrict Aberfeldie's goal-kicking options from midfield, including Cattapan and Jean-Luc Velissaris, who are both averaging roughly one goal a game this season.
It will be interesting to see how Strathmore adapts to the wider expanses of Windy Hill.
If the Mores can utilise their leg speed to create consistent forward flow, then Aberfeldie has to be willing to match them at the contest, which we know is something the reigning premier does rather well.
It'll be a game of contrasting styles but whoever wins will be a worthy Grand Final foe for Keilor.
---
ENTRY PRICES

Adults: $15.00
Concession: $8.00*
Under 14 years: FREE
Windy Hill Premium Viewing/Legends Bar: $25.00
*Valid Aged Care Pension Card Holders (must produce aged pension card)
*Valid Secondary Student Concession (must produce photo I.D. card)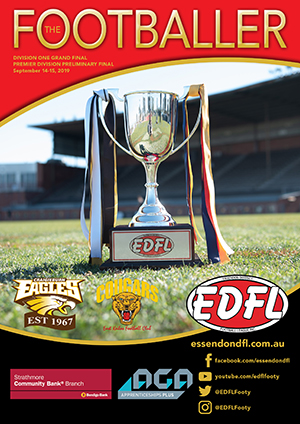 Spectators will get a FREE copy of The Footballer upon entry into all finals venues (while stocks last).
---
ANIMAL ACCESS RESTRICTIONS
No animals will be permitted into any finals venues, except for accredited-assistance animals.
---
MATCH FILMING & PHOTOGRAPHY
The EDFL will only permit approved media outlets and suppliers to take photos and film matches at all EDFL Finals venues.
Any photographers or videographers who are not wearing the official EDFL Media Coloured Vest will be asked to cease their activity immediately or risk being ejected from the venue.
All Media Vest requests are to be referred directly to adem.s@essendondfl.com.au.