---
KEILOR has not lost a single game in 2019 despite suffering key injuries early in the season.
The depth was tested, but the Blues have passed that test with flying colours thanks to some huge individual contributions from several key players throughout the year.
EDFL Media analyst, Kaine Hocking, has revealed the five Keilor players he believes will play the biggest roles in Saturday's Grand Final.
---
#4 - KANE BARBUTO

The skipper from Joe Brown Oval is having an outstanding year and has led from the front throughout, kicking 16 goals in 19 games and being named in the best players 12 times.
He leads with both his voice and his actions, and the 300-gamer will be looking for redemption for his club on the biggest stage of all.
Aberfeldie co-coach, Adam Potter and his midfield will need to pay attention to Barbuto around stoppages and most importantly, forward 50 stoppages, as he could win the game off his own boot if allowed enough freedom.
---
#2 - TODD STEVENSON
This 'man-bunned' utility is having a year like that of his skipper, if not better.
If Barbuto being is talked about as favourite for the Reynolds Medal, then this bloke would have to be in that same conversation.
Seventeen games, 12 goals and 12 times in the best players is some sort of season.
Stevenson's ability to impact the contest in the air and at ground level makes him hard to match up on, as he can play in multiple positions as required in Saturday's game. 
He can provide another mid-range target inside 50 as well, so he'll be important with how key match-ups play out on Saturday.
With Ryan Allan likely to go to Dean Galea and Jacob Craven to likely take Matthew Clark, Stevenson will look to be a third target inside Keilor's forward 50 and help keep his teammates in one-on-one situations.
---
#25 - BRETT STILLMAN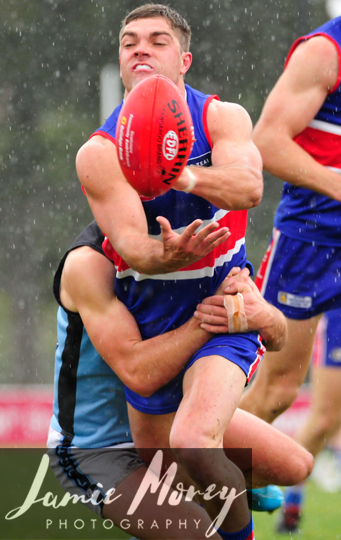 This mid-season recruit has thrived under coach, Mick McGuane at Keilor.
Nine mentions in the Blues' best players from 12 games is his best return since becoming a regular to senior football.
Stillman, who could easily have a sponsorship with Bondi Sands, will be looking to keep his run of form going with some in-and-under grunt to provide clean ball for Keilor's outside runners.
As good as both sides are in offence and attack, the midfield battle will be an interesting one as two weeks ago in the Semi Final, Aberfeldie won the clearance battle.
Stillman and his on-ball group will be looking to swing that stat the Blues' way on Saturday. 
---
#10 - MATTHEW CLARK

This tall, red-haired centre-half forward propelled Keilor's comeback in the second half the Semi Final 10 days ago.
An inaccurate first half saw Clark kick 0.3 and he also gave away a 50-metre penalty.
Knowing he owed his side an improved output, Clarke kicked three goals in the third quarter to keep Keilor in the game.
He was a dangerous match-up for Potter and his men, having Craven one-out against a fired-up Clark.
Will we see the same match-up again on Saturday or will Potter go to Plan B for a man who has kicked 43 goals in 18 games this season?
---
#18 - STEFAN RADOVANOVIC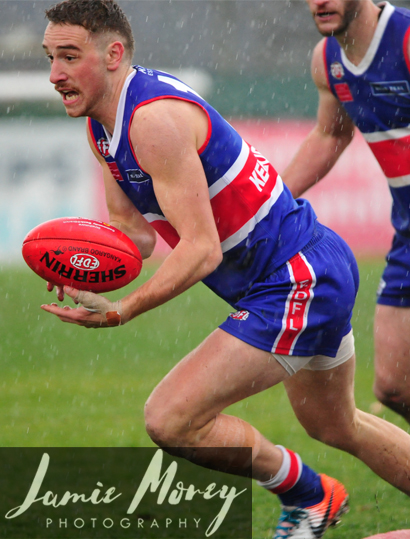 This rebounding half back was best-on-ground in the Semi Final two weeks ago.
His intercept marking was a feature to his game, and he was always looking to then take the game on with ball in hand.
For Aberfeldie, it might be worthy to consider a defensive match-up for Radovanovic in order to try and take away one of Keilor's key attacking points off half back.
If they leave him to do what he wants, then Aberfeldie may just pay the price, as Radovanovic is high on confidence and could well prove to be the difference on Saturday and be in contention for the Reg Rose Medal.
---
Kaine Hocking will be part of the EDFL Match of the Day live coverage of the Strathmore Community Bank Premier Division Grand Final on 98.9 North West FM & facebook.com/essendondfl.