---
EAST Keilor's heavy recruiting drive over the summer paid dividends in Season 2019, with the Cougars claiming the minor premiership.
Their depth was on show in last week's Preliminary Final win over Tullamarine, illustrating how much talent coach Pat Christofi has at his disposal for the Grand Final.
EDFL Media analyst, Kaine Hocking, has revealed who he thinks are East Keilor's five most important and influential players in the decider.
---
#30 - BEN CALUZZI
Tall, young and athletic, this talented half back/wingman provides so much for the Cougars.
Somehow, he goes under the radar with so many big names running around Overland Reserve, but while some do say he is the favourite to take out the Hutchison Medal, it is a premiership medal Caluzzi will be giving his all for here.
The Cougars will be looking for a much bigger impact from their outside classy types to provide ball into the forward line.
Caluzzi has shown he is a match-winner before, claiming best-on-ground honours against Tullamarine back in Round 16 after his side trailed by as much as five goals before storming home and winning.
Along with this best-on performance, Caluzzi has been named in the best players 15 times from 18 games and six times in the top three.
---
#4 - ASH ARROWSMITH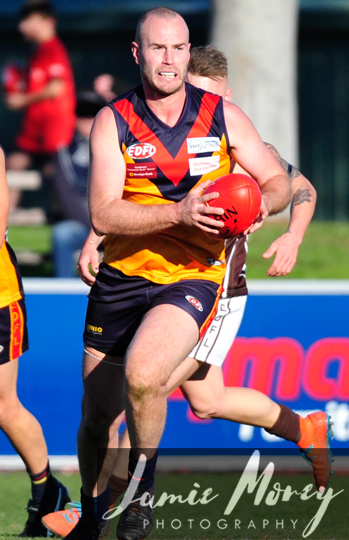 Arrowsmith is a centre half back ball magnet who came back to his home club with a task at hand – to get East Keilor back to Strathmore Community Bank Premier Division.
Three years on and now with the help of coach Christofi, that goal is one win away from coming to fruition.
Arrowsmith was the difference between Tullamarine and East Keilor in Saturday's Prelim and could well have the same impact here at Windy Hill.
In Week 1 of the finals against the Eagles, Arrowsmith started the game on fire, intercepting at will across half back and helping to launch East Keilor into attack, even getting on the end of one particular chain to hit the scoreboard himself.
Will Caelan Anderson go to Arrowsmith here and play the match-winning role for Craigieburn or can Arrowsmith throw a spanner in the Eagles' plans and spoil the party?
---
#18 - JYE KING
King is a left field key selection here, but his game could impact the result more than people might realise.
If both play, King and James Carey's teamwork will be crucial in the ruck against Billy Morrison.
King will also need to push forward when he can and have an impact, as he did against Tullamarine in Round 16's EDFL Match of the Day broadcast game, where he kicked four goals while also teaming up with Carey in the ruck.
If King can do that again here, it will make Craigieburn's back six more accountable and force them to second guess when to peel off, intercept and provide a plus-one at contests in the back half.
---
#7 - NICK GRABOWSKI
This long-sleeved, tattooed small forward/midfielder who crossed from Bundoora in the off-season has been nothing short of a star in this division, kicking 32 goals from 14 games and earning himself eight mentions in the best players.
Providing he and his brother Josh get up for the Grand Final after missing the Prelim, both Grabowski boys will prove a tough challenge to keep quiet, as they will look to make up for the Semi Final result at Windy Hill two weeks ago.
Matching up on either Nick or Josh will also be a tough ask, as both are match-winners in their own right.
---
#8 - DION HILL
In his third game back from a long injury lay-off, this big full forward will be looking to have a major impact in the Grand Final.
Although he was kept reasonably quiet in both lead-up finals, Hill still managed to kick three majors in each game.
Hill has lined up against Craigieburn twice this year, kicking three goals in each game.
He will need to be at his best here and whether his direct opponent is Ben Fynch or Dominic Micallef, his other forwards need to give him space and separation to go one-on-one.
Hill will back himself to win those one-on-ones more times than not and if allowed space and separation, he could prove more than handy and kick a big bag.
---
Kaine Hocking will be part of the EDFL Match of the Day live coverage of the Division 1 Grand Final on 98.9 North West FM & facebook.com/essendondfl.