---
ABERFELDIE boasts a plethora of high-quality talent across all parts of the ground.
The midfield is full of experienced stars, the forward line is dynamic, and the back line is recognised as arguably the best that all of local footy has to offer.
EDFL Media analyst, Kaine Hocking, tells us who he thinks are Aberfeldie's five most important players in Saturday's Grand Final.
---
#22 - SAM CATTAPAN
An interrupted 2018 season saw Cattapan only play the seven games and miss selection in the winning Grand Final side.
In similar form to his 2017 season, Cattapan has played 20 games this year for 20 goals and nine mentions in the best players.
However, one notable thing is that in all three games against Keilor this year, Cattapan has failed to feature in the bests.
For Aberfeldie to achieve a 'three-peat' of flags on Saturday, Cattapan will need to be at his best along with his 21 teammates.
With Aberfeldie winning the clearance battle over Keilor in the Semi Final two weeks ago, they will need to fix their disposal from clearances to take full advantage, and I'm sure getting the Sherrin into Cattapan's hands will be high on their priority list.
---
#32 - VICTOR CARBONI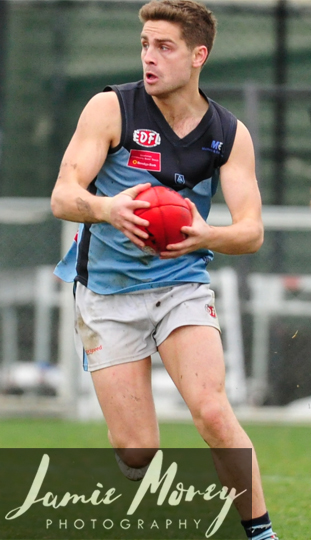 Carboni is a small that can play many roles.
The former Calder Cannon is one of the key reasons Aberfeldie got through to the Grand Final.
The run-and-carry both Carboni and Jess Rush provided in Sunday's Preliminary Final win over Strathmore played a key part in the final result of the game.
Eight times in the best players from 19 games is a good return for this midfielder/half forward.
Expect Carboni to start forward and push into the midfield on Saturday.
Up forward, his pace and tackle pressure will be important to lock the ball inside 50 for repeat stoppages and put pressure on the Keilor back six.
With an average of only 59 points scored in three games against Keilor this year, Abers will be looking for more contribution on the scoreboard from their midfielders.
Carboni only has the one goal for the year, so can he be the one to provide a fresh avenue to goal on Saturday?
He isn't the only Aberfeldie midfielder who hasn't hit the scoreboard much, with Jaryd Cachia, Wilson Berry, Josh Cubillo and Luke Blackwell all kicking less than three goals each for the year.
---
#6 - JAYDEN FOSTER

With two game-winning goals on Sunday and four for the day, Foster played a huge role in booking the Gorillas a spot in the big dance.
Foster has kicked 42 goals in each of his last two seasons, so he would be happy with his consistent form.
A lot rides on the big guy's shoulders, as Josh Pound (27 goals) is the only other Aberfeldie forward with 20-plus goals for the year that is certain to be lining up on Saturday.
If Foster can get separation and space inside forward 50, then Foster looms as the most dangerous Aberfeldie forward for Keilor to worry about.
If he's allowed room to move, the big marking forward can be a match-winner.
---
#4 - JARYD CACHIA
This inside midfielder crossed from Strathmore in the off-season to play at the same club as his younger brother, Conor.
A runner-up in the Reynolds Medal in 2017, Cachia hasn't quite had a standout season at his new club, but he can certainly be a match-winner with his ball-winning ability and gut running.
At times in Sunday's Prelim, he played as a back-up ruck inside forward 50 for Jorden Braddy.
Cachia's extensive experience from the AFL, VFL and SANFL could be a huge factor in getting Aberfeldie over the line on Saturday.
Could we see a heavyweight head-to-head battle with Keilor star, Kane Barbuto?
As previously mentioned, no matter the role Cachia plays on Saturday, he, along with his fellow mids, will need to hit the scoreboard and provide more scoring options for Aberfeldie to improve on its previous efforts against the Blues this year.
---
#29 - RYAN ALLAN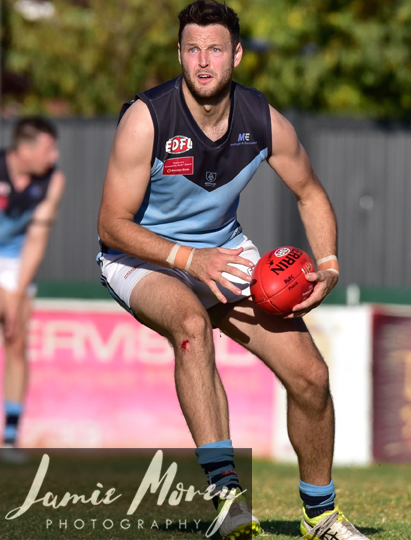 Arguably the best defender in the EDFL, Allan's near-certain match-up on the comp's best forward, Dean Galea, is worth the Windy Hill entry fee alone.
An injury in Round 6 kept Allan on the sidelines for the best part of two months, but he has definitely re-gained some top form in this finals series.
Ten days ago, he kept Galea goalless.
Allan's ability to continually take intercept marks is a key feature of his game, as well as his ability to read the ball.
Sides that continue to bomb the high ball inside 50 will play into Allan's hands.
I'm sure Mick McGuane and his men have been working on forward delivery and their last kick inside 50 in the lead-up to Saturday to best aid their forwards.
If not, then Allan and his fellow defenders will have a field day in the air.
---
Kaine Hocking will be part of the EDFL Match of the Day live coverage of the Strathmore Community Bank Premier Division Grand Final on 98.9 North West FM & facebook.com/essendondfl.