---
ABERFELDIE and Burnside Heights make up almost half of this year's EDFL Women's - Premier Team of the Year.
The 2019 premiership winner and 2018 runner-up have contributed six and five players to this year's team respectively, with eight of the division's 10 clubs represented among the 24 positions.
Undefeated Aberfeldie has good representation across the entire ground, with skipper Kurtis Shine and premiership teammate Amy Smith named on each half back flank.
Through the middle, Amy Starzer got the nod as starting ruck, while Olivia Madden has been named at rover.
Grand final best-on-ground medallist, Siobhan Carlton, has moved from centre half forward in last year's team to the half forward flank this year, while Jess Atta made it on the interchange bench.
The overall make-up of the side is dramatically different from the inaugural EDFL Women's side of 2018, with only five players retaining their spots this time around.
Burnside Heights pair Kayla Ravanello and Krissy Trang have again made the cut, but both are in new positions this year.
Sunbury Kangaroos captain, Tylah Bell, is the only player to have retained her position (ruck rover) in the starting 18 from the 2018 team.
The Kangaroos are well-represented in the side, with four inductees among the 24.
Despite only combining for 11 total games, the coaches still found room for experienced forward pair Alexandra Quigley and Simone Craige, while last year's EDFL Women's Best & Fairest, Bailee Said, is the fourth Kangaroo in the side.
This year's captain and coach of the EDFL Women's - Premier Team of the Year will be revealed at Thursday's EDFL Awards.
---
2019 EDFL WOMEN'S - PREMIER TEAM OF THE YEAR
Click on picture to download PDF copy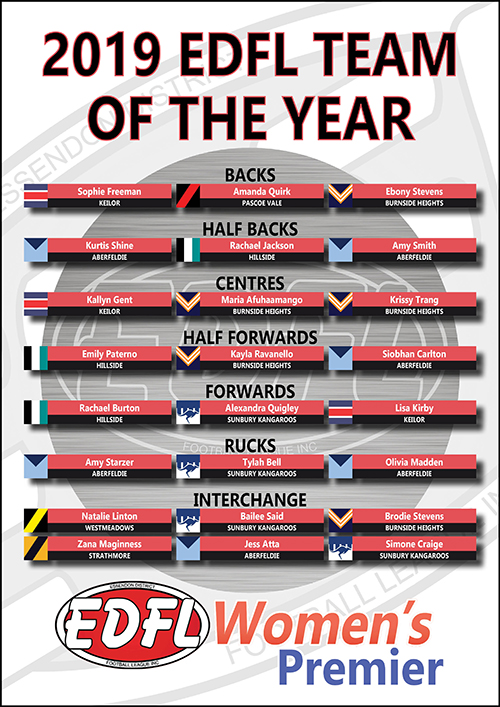 ---
SELECTION PROCESS & CRITERIA
All EDFL Teams of the Year are compiled based solely on the input of each club's senior coach.
At the end of the home-and-away season, each senior coach is asked to submit their own Team of the Year.
Once all teams are submitted, the EDFL then compiles the final Team of the Year based on the data submitted by the coaches.
The EDFL Women's - Premier Team of the Year was to recognise the best players of the 2019 home-and-away season.
Other factors such as reputation or form in previous seasons were not to be taken into account.
There were no restrictions on how many players coaches wished to select from their own team, but they were encouraged to consider players from all participating teams.
Once teams were chosen, coaches were then asked to also appoint a captain for their selected team.
Finally, they were then asked to select one of their fellow senior coaches as their Coach of the Year.
They were not permitted to select themselves.
The coach with the most total votes was appointed the coach of the Team of the Year.