---
PRELIMINARY Finalist Keilor Park has scored the most nods in this year's EDFL Women's - Division 1 Team of the Year.
There are five Devils among the 24 players selected in this year's team, with all 10 participating clubs represented in the final side.
After another stellar year, Keilor Park's Samantha German has retained her spot in the centre from last year's side, while Avondale Heights youngster Rita Ceravolo and Tullamarine midfielder Tricia Devine have also made the team after being picked for the inaugural EDFL Women's Team of the Year in 2018.
The eventual premier, Essendon Doutta Stars, has four inductees into the side, with the division's leading goal kicker, Aleesha Hobbs, getting the nod at centre half forward, while club captain Megan Runting has been slotted into centre half back.
Fellow finalist Moonee Valley has also been well-represented, with three Fog players making the team, including star forward Georgia Marsland, who kicked 34 goals in her 16 games.
In total, the forward six in this year's team combined for 150 goals during the season.
This year's captain and coach of the EDFL Women's - Division 1 Team of the Year will be revealed at Thursday's EDFL Awards.
---
2019 EDFL WOMEN'S - DIVISION ONE TEAM OF THE YEAR
Click on picture to download PDF copy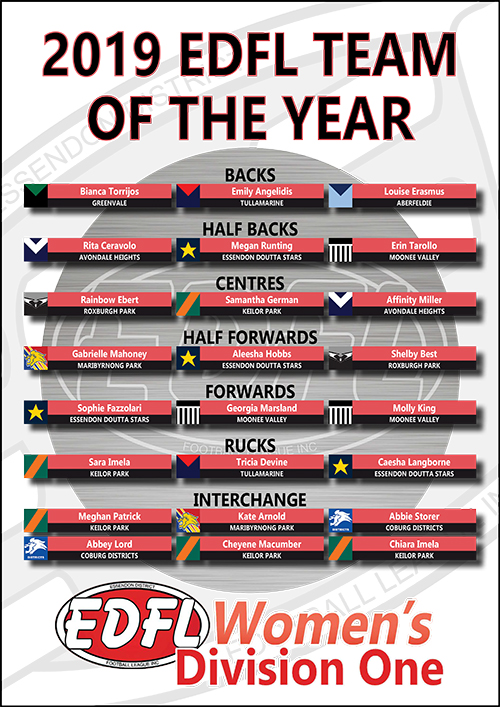 ---
SELECTION PROCESS & CRITERIA
All EDFL Teams of the Year are compiled based solely on the input of each club's senior coach.
At the end of the home-and-away season, each senior coach is asked to submit their own Team of the Year.
Once all teams are submitted, the EDFL then compiles the final Team of the Year based on the data submitted by the coaches.
The EDFL Women's - Division 1 Team of the Year was to recognise the best players of the 2019 home-and-away season.
Other factors such as reputation or form in previous seasons were not to be taken into account.
There were no restrictions on how many players coaches wished to select from their own team, but they were encouraged to consider players from all participating teams.
Once teams were chosen, coaches were then asked to also appoint a captain for their selected team.
Finally, they were then asked to select one of their fellow senior coaches as their Coach of the Year.
They were not permitted to select themselves.
The coach with the most total votes was appointed the coach of the Team of the Year.