---
KEILOR captain Kane Barbuto has capped off a brilliant season by claiming the 2019 Reynolds Medal.
Barbuto was a clear favourite leading into tonight's EDFL awards, which was ultimately reflected in his dominant 10-vote win over dual runners-up, David Isbister (Keilor) and Nick O'Brien (Strathmore).
Barbuto polled in 11 of Keilor's 18 games and never polled less than two votes each time.
The result adds to what has already been a stunning year for Barbuto and his Blues, who on Saturday claimed their second premiership in four years to end what was a perfect 20-0 season.
Barbuto also claimed the Reg Rose Medal as best-on-ground in the eight-point win over Aberfeldie.
A stellar three-vote performance in the final round saw EDFL stalwart Robbie Castello claim the Hutchison Medal in Division One.
Castello joined Westmeadows in 2019 after coaching Maribyrnong Park for five seasons and was a clear standout in his first year with the Tigers.
Despite missing six home-and-away games, Castello edged out Harley Short (Roxburgh Park) and Tom Baravi (West Coburg) to claim a three-vote victory.
Moonee Valley co-captain Cory McGrath saluted in the Strathmore Community Bank Division Two B&F count, polling 11 total votes in each of the last five games of the season to claim a six-vote victory over Sunbury Kangaroos ruckman, Brenton Sutherland.
The former Bomber and Blue has been a proven vote-getter since joining the Fog in 2018, finishing second in last year's count behind East Sunbury's Kamen Ogilvie.
In EDFL Women's - Premier, Burnside Heights star Krissy Trang polled in every game from Rounds 6 to 14 to claim the division's B&F award, four votes ahead of Aberfeldie youngster, Olivia Madden.
Trang is the Bears' first ever senior league B&F winner since the club joined EDFL senior ranks in 2014.
Finally, it was a big night for young Essendon Doutta Stars gun, Aleesha Hobbs.
Hobbs not only claimed the EDFL Women's - Division One B&F award by a single vote, she also walked away with the AGA Apprenticeships Plus Rising Star (Women's) award and her division's goal kicking title.
Scroll down for all of tonight's results and click here for full vote tallies across all competitions.
---
REYNOLDS MEDAL
WINNER:
Kane Barbuto
Keilor
28 votes
RUNNERS-UP:
David Isbister
Keilor
Nick O'Brien
Strathmore
18 votes
LEADING GOAL KICKER
Dean Galea
Keilor
59 goals
TEAM OF THE YEAR
COACH:
Mick McGuane
Keilor
CAPTAIN:
Kane Barbuto
Keilor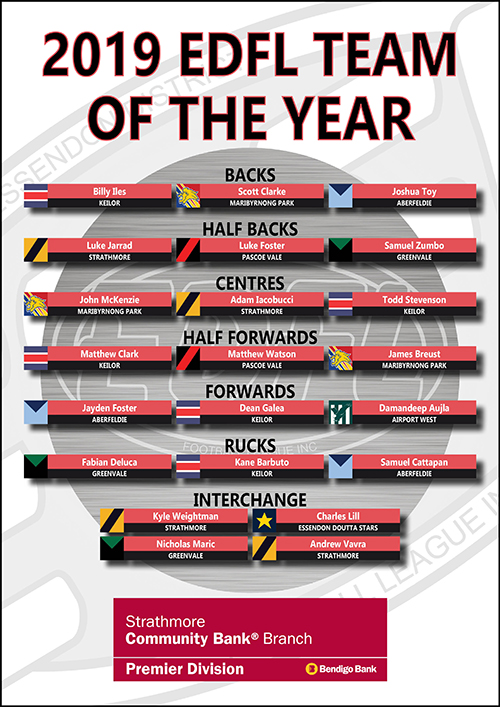 ---

HUTCHISON MEDAL
WINNER:
Robbie Castello
Westmeadows
18 votes
RUNNERS-UP:
Harley Short
Roxburgh Park
Tom Baravi
West Coburg
15 votes
LEADING GOAL KICKER
Omar Saad
Westmeadows
53 goals
TEAM OF THE YEAR
COACH:
Michael Farrelly
Roxburgh Park
CAPTAIN:
Robbie Castello
Westmeadows
---
BEST & FAIREST MEDAL
WINNER:
Cory McGrath
Moonee Valley
20 votes
RUNNER-UP:
Brenton Sutherland
Sunbury Kangaroos
14 votes
LEADING GOAL KICKER
Josh Covelli
Burnside Heights
56 goals
TEAM OF THE YEAR
COACH:
Shanon Carroll
Moonee Valley
CAPTAIN:
Daniel Gregory
Sunbury Kangaroos
---

BEST & FAIREST MEDAL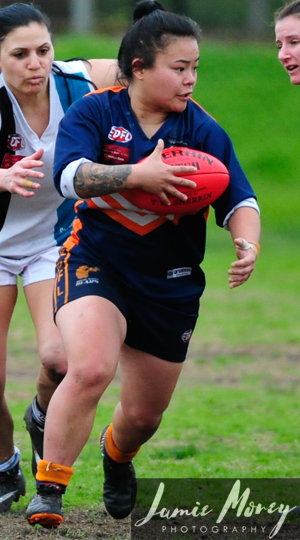 WINNER:
Krissy Trang
Burnside Heights
21 votes
RUNNER-UP:
Olivia Madden
Aberfeldie
17 votes
LEADING GOAL KICKER
Alexandra Quigley
Sunbury Kangaroos
36 goals
TEAM OF THE YEAR
COACH:
Justin Fairservice
Hillside
CAPTAIN:
Tylah Bell
Sunbury Kangaroos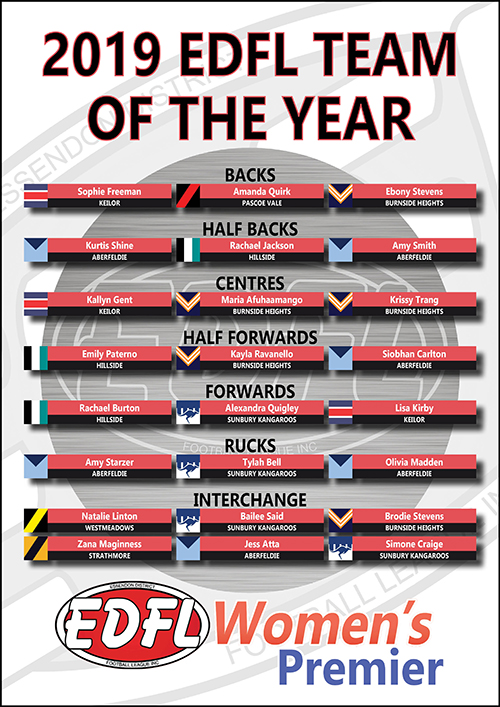 ---
BEST & FAIREST MEDAL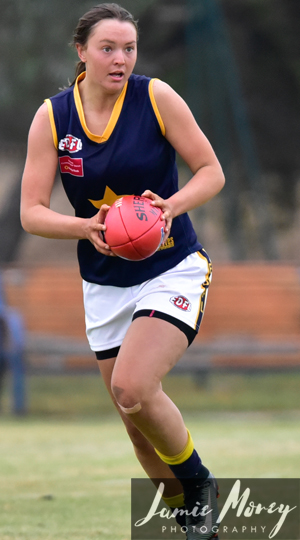 WINNER:
Aleesha Hobbs
Essendon Doutta Stars
20 votes
RUNNER-UP:
Meghan Patrick
Keilor Park
19 votes
LEADING GOAL KICKER
Aleesha Hobbs
Essendon Doutta Stars
39 goals
TEAM OF THE YEAR
COACH:
Bernard Williams
Essendon Doutta Stars
CAPTAIN:
Tricia Devine
Tullamarine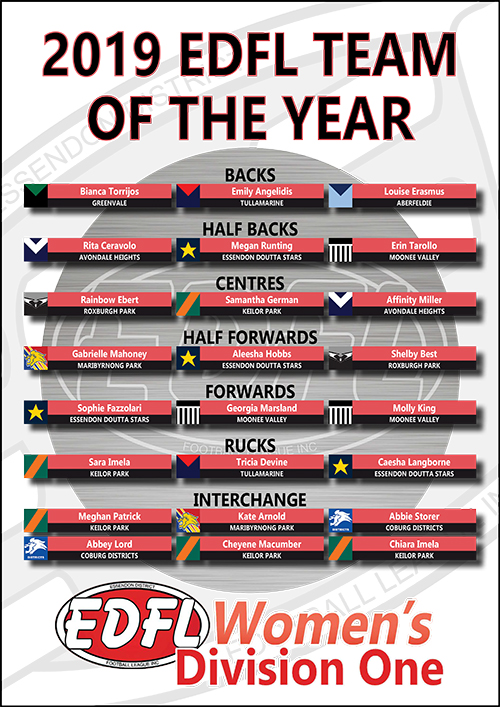 ---
AGA APPRENTICESHIPS PLUS RISING STAR
MEN'S CATEGORY:
Donnacadh Cleary
Avondale Heights
WOMEN'S CATEGORY:
Aleesha Hobbs
Essendon Doutta Stars

---
RESERVES PREMIER DIVISION - J. COLEMAN MEDAL
WINNER:
Trent Crawford
Airport West
22 votes
RUNNERS-UP:
Ben Maud
Keilor
Frank Fazzolari
Aberfeldie
13 votes
---
RESERVES DIVISION ONE - TIM WATSON MEDAL
WINNER:
Rhys Fynch
Craigieburn
14 votes
RUNNERS-UP:
Brodie White
Craigieburn
Tobi Yusuf
West Coburg
13 votes
---
RESERVES DIVISION TWO - BEST & FAIREST MEDAL
WINNER:
Daheg Abdul-Wahed
Northern Saints
13 votes
RUNNERS-UP:
Tom Wilson
Moonee Valley
Julian La Sala
Sunbury Kangaroos
Jamie Cuffe
Sunbury Kangaroos
12 votes
---
UNDER 19 PREMIER DIVISION - MARK THOMPSON MEDAL
WINNER:
William Brkic
Aberfeldie
20 votes
RUNNER-UP:
Lucas Watson
East Keilor
18 votes
---
UNDER 19 DIVISION ONE - KEN FRASER MEDAL
WINNER:
Ostinn Bellingham
Westmeadows
29 votes
RUNNER-UP:
Reece Field
Westmeadows
21 votes
---
THIRDS - BEST & FAIREST MEDAL
WINNER:
Alex Koeleman
Hillside
15 votes
RUNNER-UP:
Vincent Helou
West Coburg
12 votes
---
JACK HARRIS CLUB ADMINISTRATOR OF THE YEAR
WINNER:
Jenny Tydell
Pascoe Vale
---
EDFL CLUB OF THE YEAR
WINNER:
Moonee Valley FC
---
UMPIRE OF THE YEAR
WINNER:
Will Harris
---
NORTH WEST AFCA COACH OF THE YEAR
AUSKICK CATEGORY:
Lisa Charlton
Oak Park Auskick
JUNIOR CATEGORY:
Tristan Salter
Maribyrnong Park Under 9 Girls
YOUTH CATEGORY:
Daniel Raudino
Keilor Park Under 13 Boys
SENIOR CATEGORY:
Bernard Williams
Essendon Doutta Stars Senior Women
FEMALE CATEGORY:
Hanna Spark
Glenroy Under 13 Boys